A Conversation about Marcus Garvey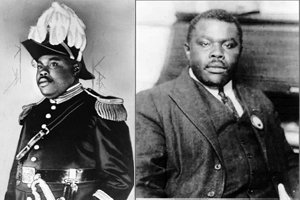 Garvey had hoped the Black Star Line would be a means to trade globally and transport black people who sought to be repatriated to Africa. He sold shares for $5 and that capital allowed him to buy three ships.
"When you think about his words back in the 1920s, his insight on practical, educational things is profound," Philp said. "If you make a list of the great things Jamaicans have done, the first person on any list is supposed to be Marcus Garvey. Anybody can come after that. It's not to disrespect any other Jamaicans like (National Heroine) Nanny. They were resisting. In fact, (from the time) they set foot in Jamaica, the Africans in Jamaica had this chain of resistance."
"The difference is the intellectual foundation he laid. You have people who came along, who made that breakthrough but they didn't have a systematic philosophy. He came from a perspective of African fundamentalism. He said if you hold this to be true, certain things will happen. Garvey laid down the intellectual foundation of freedom for Africans on the continent."
"Garvey is the resistance against a whole system which is predicated on the use and abuse of African labor and that you treat profits as more important than people. That has enormous implications because that is what the Caribbean and Americas was found upon. He said humanity is far more important than any moneymaking scheme. That was a complete shift in priorities. Every step of the way the question is, are we focusing on people or money? This leads you down the road to humanity, self-actualization."
Philp said he became aware of Garvey several years ago when he read that his icon, reggae great Bob Marley started his record label, Tuff Gong, because of Garvey.
"I grew up listening to the music of Bob Marley. When I realized Bob had his own label, he alluded to Garvey's influence," he said. "Garvey said we needed to own the means of production. I started to read Garvey, said 'Oh, this is what he's talking about.'"
Garvey got him pondering "the whole issue of identity as an artist, and as a black man," Philp explained.
Philp, a husband and a father who lives and works in Miami, said he felt compelled to take Garvey's words beyond the intellectual. So he started his own book company, Mabrak Books, as well as a renowned blog, Geoffrey Philp's Blogspot, which is a repository for fiction, poetry, interviews, podcasts, and literary events from South Florida and the Caribbean.
"The blog exists, and is a physical manifestation of what Marcus has taught me. I could make that breakthrough while others said I couldn't own a company," he said.
"Marcus was just interested in supporting black businesses," Philp said. "If you had a business and you were black, you could get money from him. Garvey's methods predate micro-loans and things of that nature."
Philp said he has gathered about 1,200 signatures on the petition. He hopes to get 5,000. History demands that Garvey's name be cleared, he said.
Perhaps the most significant of Garvey's considerable legacies, Philp said, is the freedom he gave black people to maximize their humanity in the face of often debilitating racial animus.
"Garvey demanded basic respect and basic dignity," he said. "He said, if we're going to share this common space, deal with me righteously, man to man, man to woman, just deal with me righteously. Marcus Garvey talked about true freedom and self-actualization. He said the first step for black people is to be comfortable in their own skin. Every one of us has to work out in our own way what Marcus Garvey means to us."