Capital Area Asset Builders Helps Area Residents Achieve Dreams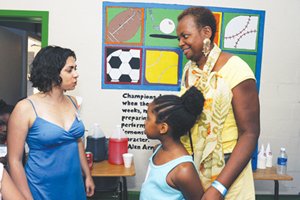 Although Erica Nelson is only 29, life has handed her some hard knocks. The San Diego transplant at various points experienced unemployment, underemployment and homelessness, while caring for her son Osaro and scrambling to find ways to finance her education.
She never gave up though, and after she had exhausted all her financial options at Howard University, she found her way to the Capital Area Asset Builders (CAAB) which offered her a crucial lifeline. Nelson is one of 140 D.C.-area residents who CAAB helped to reverse their sagging economic fortunes and showed them how to save money towards goals such as higher education, homeownership and entrepreneurial pursuits.
Nelson, the keynote speaker at an intimate gathering of CAAB graduates, headlined the ceremony held at the Takoma Recreation Center in Northwest on Saturday, August 13.
"I used my money to go back to school," said Nelson with a broad and bubbly smile. "I am going to the University of the District of Columbia and I expect to get a BA in Sociology in May 2012. Yeah, I'm coming out. I got a 4.0 (GPA) this semester which means I'm eligible to get money to pay for another 19 credits."
"I feel very excited. I consider my opportunity through CAAB to be a launching pad. I was recruited and accepted into the Congressional Internship Program where I'll be learning how government works. I also plan to go to law school in 2013. They helped show me that financial independence is attainable."
Since she began the program in March 2009, Nelson diligently deposited money she saved into a special account called an Individual Development Account (IDA) which CAAB matched 3:1. Her $1,000 investment blossomed into $4,000 which she applied to tuition.
As a part of the program, CAAB requires low- and moderate-income participants to attend eight hours of basic financial education that includes money management, budgeting and saving. Participants also learn asset building, how to buy a home or start a small business; job training; or pursuing a higher education.
"Our matched savings program provides a critical gap in what is needed to help people become financially self-sufficient. The gap is between your desire to improve your situation and your ability to execute," said Maurita K. Coley, CAAB's executive director. "The IDA Program surrounds our grads with a combination of education, institutional support from CAAB and our partners, peer support, moral support and financial incentives in the form of micro-grants."
Coley, 55, who is also a lawyer and a former Black Entertainment Television executive, said a total of 450 people are depositing between $25 and $175 a month into escrow accounts as they take classes. The 140 graduates saved more than $160,000 which translates into $480,000 in earned matching funds. Over the life of the program, beginning in 1997, 806 individuals and families saved almost $800,000 and matching funds of $2.4 million. As a whole, these participants have invested in their communities to the tune of $3.2 million by buying homes, building businesses and enrolling in higher education and job training courses.