Capital Area Asset Builders Helps Area Residents Achieve Dreams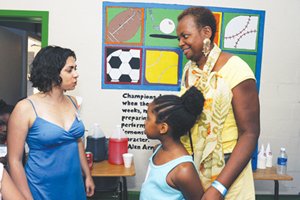 Tajuan Farmer sat quietly listening to CAAB staff members and graduates talk about the merits of the program and how it changed people's lives. After graduation certificates, a mayoral proclamation and pins were handed out, he spoke about his journey from someone living in Section 8 housing to becoming a proud homeowner.
"I'm a first-time homeowner!" he proclaimed. "Three or four years ago, I made the realization that I needed to buy a house."
Farmer, 36, said he heard about CAAB when he took part in activities at Lydia's House, a non-profit organization that provides after-school programs, job training and housing counseling in the District. He eventually learned about CAAB's money management program and signed up. That ultimately led to his becoming a participant in the IDA Program.
"It feels great. I have a home in an up-and-coming area on H Street behind Hechinger Mall (in Northeast). It's enough for me. I'm very happy and very pleased to be a part of that community," said the native Washingtonian and employee at the Department of Veterans Affairs in downtown Washington. "The reason I moved from an apartment to a house was to build financial wealth. My perception is that when you rent, it's not an investment but when you buy, it's a long-term investment."
"This shows it can be done and it doesn't have to happen overnight. It takes planning and being willing to wait."
Following the ceremony, the group strolled through the raindrops to a nearby park building where CAAB staff had rustled up burgers, hot dogs, roasted corn, salad and other goodies.
Delores Ford stood on the patio eating a hot dog and looking contemplatively off into the distance. CAAB's timely intervention saved her life, she said.
"I was in a lot of debt - $16,000-$17,000. That may be menial compared to someone else but I usually liked to pay off bills before they were due," said Ford, owner of Around the Clock Daycare located in Northeast. I had creditors calling me and I wouldn't answer. I told my friends to call me and say 'Hey D, pick up."'
"In the classes on money management, I learned how to handle creditors. I was taught to be consistent with savings, to be more responsible with my money and even how to talk to my creditors instead of avoiding them. They helped me to become debt-free."
Prior to taking this course of action, Ford said she called a financial counselor at another organization who was helping her, and told her she was almost suicidal.
"I can laugh about it now," she said of her once-oppressive financial woes.
These days, Nelson said, she is living within her means, is prudent as she makes financial decisions that affect her and her five-year-old son, and she's excited about building a legacy. Nelson said she tells everyone she knows about the program and has referred friends and relatives.
The high unemployment, foreclosures and significant financial hardships people have faced over the past two years has put pressure on those in the program, as well as on CAAB as it continues to solicit funding support from the federal government, private organizations and foundations, Coley said. Participants have had to cut back, dip into their savings "just to survive" and reassess their financial goals. This stark economic reality, however, hasn't deterred most of them, she added.
Miriam Savad, 24, oversees between 400 and 500 active accounts as the savings program manager.
"We have to be resourceful in trying to build wealth," she said. "People are in minimum wage jobs, can't buy a home and are barely living in a two-bedroom apartment. We're helping people who may not have been able to save. IDA is a valid tool. People need it. But it shows that people are saving even in hard times. We are looking at how to keep this going, finding resources, dealing with limitations and catering to that need."
Nelson's best friend Aisha Alexander, 32, attended the ceremony to support her friend's most recent success. They met nine years ago at Howard University and plan to go to law school together.
"I think it's wonderful. She's an independent single mother without any of her parents. It's a gift. I'm very proud of her that she's chosen to go back to school. It's great for her and her son. This allows us to see her progress and we don't have to take care of her," the Takoma Park, Md. resident and paralegal joked.