Education Secretary Arne Duncan Challenges PNBC Delegates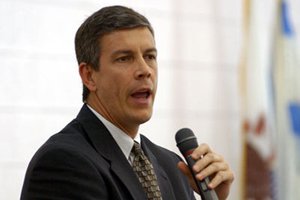 Duncan spared no one.
"I challenge teachers to never give up on a child," he said. "We have teachers who think that black and poor children can't learn. They don't believe in their hearts (that they can learn). Schools have to be open six, seven days a week, most of the year."
He cited Texas as an example of a state where childrens' needs are buried under a barrage of regulations that severely punish the children.
"They are arresting, suspending and expelling 50 percent of the students in Texas. That's a pipeline to prison. These are good kids and they need our help and support," Duncan said.
He said teachers needed to be elevated to the position they once held.
"Teachers are beaten down and disrespected. We used to revere our educators but we lost our way. We need to drastically increase their salaries," said Duncan. "We will need one million new teachers as baby boomers retire. We have to invest and value what we believe in."
To church leaders Duncan had this message: "If you're open on Sundays but closed the rest of the week, you're part of the problem. You are amazing community anchors and spiritual leaders. (However), gang leaders are out there 24-7. They outwork, outsmart and are more strategic than us. Mentors and role models are needed."
As the country prepares for the unveiling of the Martin Luther King Memorial, Duncan said, the U.S. is "coming to a moment of truth."
"If all we do is revere the statue and not live the values, you will miss what he worked for," he said. "And if we talk about his legacy and not live his legacy, we do a great disservice to his legacy."
Mayor Vincent C. Gray welcomed the delegates to the nation's capital, and used the occasion to assert his desire for his city to enjoy all the rights and privileges of other states.
"It is unconscionable and incredibly hypocritical for leaders to go all over the world and fight battles for democracy. We can't even appropriate our own budget of five-and-half billion dollars. They (Congress) couldn't even deal with the debt-ceiling but want to tell us how to spend our money."
"Even with our local laws, we have to go to Congress. We know how to run this city! Of 119 nation's capitals, we are the only one who do not have the right to make our own decisions. It's hypocrisy of democracy and it's time for change."
Gray, 68, said justice has come to Washington, DC.
"It's a travesty that we had to wait 26 years for a memorial," he said. "(Dr. King) was an extraordinary humanitarian."
In parting, Gray asked two things: for the delegates to fashion a resolution asking Congress to grant Washington all the rights and privileges other states enjoy and for them to spend freely.
"I ask you to stand with us and ask them to bring democracy to every citizen of America, particularly those in the nation's capital."
"I also hope you will spend every dime you have while in D.C. We take credit, checks, and IOUs because I trust everyone in this room."