Tony Lewis Jr. Wins Best Community Leader at Hoodie Awards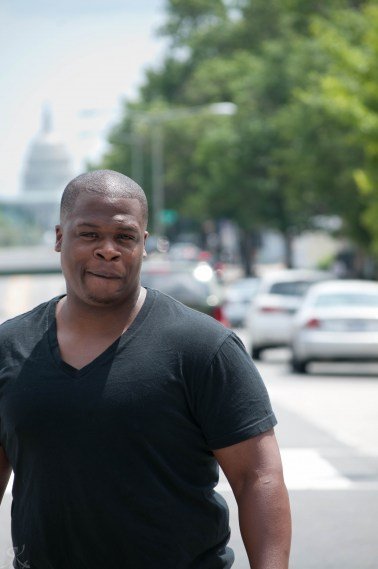 When Tony Lewis Jr. decided more than two decades ago not follow in his father's footsteps, he never dreamed that choice would someday garner him nationwide recognition for his contributions to the Washington, D.C., community.
But that's just what happened the weekend of Aug. 12-14 when the 31-year-old Northwest resident traveled to Las Vegas to receive accolades as Best Community Leader on behalf of radio talk show host Steve Harvey's 2011 Ford Hoodie Awards. For his outstanding efforts Lewis also received a brand new 2011 Ford Explorer.
"It was an incredible feeling that I was even nominated," Lewis said. "I was overwhelmed at the number of people who appreciate my work."
Lewis, who works with the District of Columbia Court Services and Offender Supervision Agency (CSOSA) as a vocational and job development specialist, is the son of Tony Lewis Sr. -- one of D.C.'s most notorious open-air drug market dealers.
During the 1980s Lewis Sr. partnered with drug kingpin Rayful Edmond III, trafficking millions of dollars of cocaine into D.C. by way of Los Angeles. Both men are currently serving life sentences in federal prisons.
In the 22 years that his father has been locked up, Lewis Jr. has endeavored to uplift his city, particularly by making a difference in the lives of other children of incarcerated parents.
"I know the stress that comes along with that kind of situation," he said. "I'm obligated to be a positive role model to those kids . . . part of my mission is to get them exposed to other things; to talk them through [their pain] and to show them that education is the way to success. I want them to know that they can achieve their dreams."
Leonard Sipes, CSOSA communications director, said Lewis is an extraordinary leader whose job is his passion.
"He comes from a disadvantaged background from the standpoint of his father being incarcerate, and he brings that experience for the benefit of other such kids in D.C.," Sipes said. "He is constantly looking for new and better ways to employ offenders under our supervision."
Now in its ninth year, the star-studded Hoodie Awards pays tribute to everyday individuals and businesses across the country for the services and excellence they provide their communities.
Harvey, also a noted comedian and best-selling author, said during the Aug. 14 awards show at the Mandalay Bay Hotel, that he is proof of how people from the hood can make something of themselves.
"I worked on the assembly line at Ford Motor Company, assembling spark plugs and other parts," Harvey said. "But today, Ford Motor Company is the title sponsor of the Hoodie Awards that Rushion McDonald and I created."
Among other Hoodie awards brought home by Washingtonians were those for Best Fried Chicken -- Carey's Cuisine; Best High School Teacher -- Glendora Franklin; Best Nail Salon -- Salon Couture; and Best Barbershop -- Moon's Barbershop.
First Baptist Church of Glen Arden, Md., won for Best Church.