Friendship Academy Football Team to Appear on ESPN U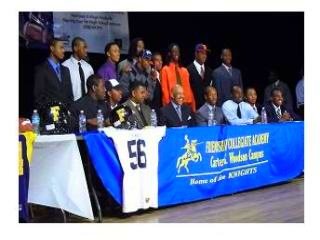 WASHINGTON, D.C. -- Friendship Public Charter School is proud to announce that the Friendship Collegiate Academy Knights will play Taft Tech in Cincinnati, Ohio, on ESPN U. The game will be shown at 11 a.m. on Aug. 28 and is part of the second annual ESPN High School Football Kickoff.
"We are honored to be invited to participate in this exciting event. This is a chance to show the country Friendship's great tradition of student athletes," said Donald Hense, chairman of Friendship Public Charter School. "Our goal for the football team, and all of our student athletes, is to make sure they are prepared to be stars on the field and leaders in the classroom."
Friendship Collegiate Academy is striving to once again make Washington, D.C., a leader in developing scholar athletes. Last February, 14 Friendship students signed full college football scholarships. Students signed with leading colleges and universities including Columbia, Morgan State, Pittsburg and Ohio universities.