Waters Says President Needs to Fight Harder to Increase Black Employment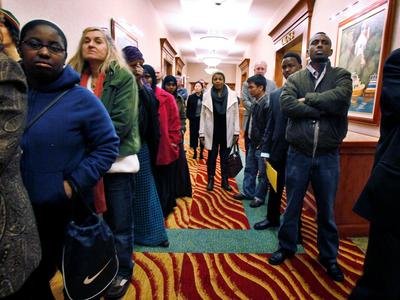 The Congressional Black Caucus is voicing frustration with President Barack Obama, citing that the nation's first African-American president has fallen short reducing joblessness blacks.
During a job fair this week in Atlanta, CBC member Rep. Maxine Waters (D-Los Angeles) noted unhappiness and rising anger among blacks at Obama. She said it's time for him to get tough with his Republican opposition and put together proposals that would be more beneficial to the poor -- particularly the African-American community.
"There is a growing frustration in this country and in minority communities because the unemployment rates are so high," Waters said. She also said that home foreclosures and the increasing wealth gap between blacks and whites has created discord in the black community.
"The president is going to have to fight and he is going to have to fight hard,' Waters said, referring to her party differences with the GOP over raising the debt ceiling.
"We were basically held up in raising the debt ceiling, until they got all of those budget cuts they demanded," Waters said. "We didn't raise any revenue and they didn't close any tax loopholes. I believe the Democratic Party and the president of the United States should not have backed down. We should have made them walk the plank."
Since Aug. 18, the 43-member CBC has been on its "For the People" jobs tour. The purpose of the five-city tour is to promote the CBC's recent jobs resolution which calls for a comprehensive national initiative to create jobs among disadvantaged communities. Following the stop in Atlanta this weekend, the tour heads to Miami before traveling to Los for dates there Aug. 30-31.
"The Congressional Black Caucus loves the president, too. We're supportive of the president, but we're getting tired," Waters further stated. "We're getting tired. The unemployment is unconscionable."