Rev. Nutall to Lead Mayor's Office on Religous Affairs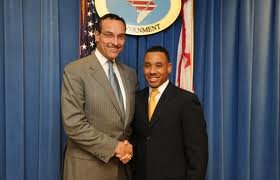 WASHINGTON, D.C. -- Mayor Vincent C. Gray has selected the Rev. Dexter U. Nutall, pastor of the historic New Bethel Baptist Church in Shaw, as director of the District's Office on Religious Affairs.
Rev. Nutall will advise the mayor and his staff on religious affairs and serve as a liaison between the mayor's office and the District's faith communities.
"Rev. Nutall is an experienced religious leader who brings vision and enthusiasm to this position," said Gray. "He is a proven professional who has demonstrated innovative leadership in the religious community. He is not a newcomer to the District, and brings years of religious expertise and experience with government agencies and the local faith community."
Nutall has served as the senior pastor of New Bethel since June 2009; and as a supply pastor there in 2006. He also has served as a staff attorney with the D.C. Office of Campaign Finance.
Nutall has more than 25 years of experience teaching and preaching in churches, youth groups, hospital settings, and to incarcerated groups.
A published author on the topic of the African-American Pulpit, Nutall follows in the footsteps of the Rev. Walter E. Fauntroy, pastor emeritus of New Bethel, who served as the fourth pastor of the historic congregation.
Nutall, resident of Ward 5, holds bachelor of science degree from Mount Saint Mary's College, a juris doctor degree from Howard University School of Law and a master of divinity degree from Samuel DeWitt Proctor School of Theology at Virginia Union University.