Council Committee: Gray's Administraton Broke the Law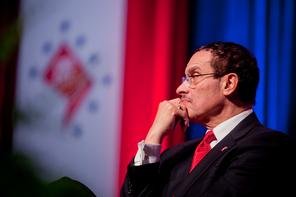 A District of Columbia City Council committee has determined that Mayor Vincent Gray's administration side-stepped District law in hiring the adult children of two senior aides, and that one of the mayor's campaign assistants provided cash to Sulaimon Brown. Brown, a former mayoral candidate, dropped our of last year's race to support Gray. The committee also found that Brown had been promised a job with the administration.
It was not determined that Gray was aware of the acts of nepotism, payments to Brown or other instances of cronyism and excessive salaries, according to the Associated Press.
Meanwhile, because the indiscretions occurred under Gray's watch, he was blamed for damaging the public's trust in the local government.
Asked what the committee's findings mean for the administration, Michael Fauntroy, political analyst at George Mason University, responded that he wasn't sure. "We'll just have to wait and see," he said.