D.C. Rocks from Quake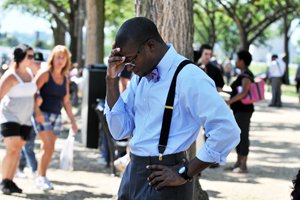 At 1:51 p.m. on Tuesday afternoon, an earthquake measuring 5.9 on the Richter scale rocked the Washington metropolitan area. There are reports that the quake may have lasted as long as 40 seconds and an estimated 12 million people in seven states and parts of Canada felt the tremors.
One of Washington's national treasures, the National Cathedral in Northwest, was shaken to the point that its bells tolled. Several finials and pinnacles atop the cathedral crashed to the ground. And late Tuesday, August 23, church officials continued to check the massive structure, inside and out, to ensure the absence of additional damage.
Although there were no major injuries or major damage to infrastructures as of late Tuesday night, the fallout left heavily traveled corridors in the nation's capital and surrounding areas gridlocked. In addition to bumper-to-bumper traffic, downtown streets teemed with workers who fled to the sidewalks for safety.
The sheer volume of calls following the quake rendered cellular phones unusable. Long lines of commuters waited patiently for buses that never came and thousands eager to get home had no way to make that happen. Metro trains traveled at maximum speeds no greater than 15 miles an hour and with the federal government granting employees administrative leave, sweltering Metro stations soon clogged to capacity. Most federal and private buildings were evacuated. Outside, men and women, faces drawn with anxiety and angst, crowded city streets in many parts of the District.
All over the affected area, individuals bolted for the outdoors when they realized the earth was moving. Ironically, weather forecasters cautioned viewers that going outside in the midst of an earthquake left them susceptible to exploding glass and falling bricks.
Donald Bethea sat on the verandah of his Northwest home in Columbia Heights with his elderly mother when the world began to shake.
"I didn't think about it the way people usually think about it. I just thought about the Man upstairs and the fact that he was doing his job trying to let us know that we need to get our house in order," said Bethea, 57. "Mom was upset. She was trying to figure out what was going on. She was caught off-guard, jumped up and stumbled. I grabbed her, patted her and told her everything was fine."
Bethea, a plumber, said everything in the house rattled and shook. He said he went inside to check and noticed his VCR, cable box and items on the television had tumbled behind the television.
Elsewhere, residents described scenes of paintings and lighting fixtures falling off walls, books, vintage record collections and cabinets tipping over and in a few cases, homeowners said they noticed that the foundations of their houses had shifted. In Tyson's Corner, Va., a number of vehicles parked close to buildings suffered severe damage when bricks toppled onto the cars.
Officials from the U.S. Geological Survey pinpointed the epicenter of the quake at Mineral, Va. Damage to nearby communities proved to be extensive, with chimneys destroyed, windows blown out, and significant damage to buildings and other structures.