D.C. Rocks from Quake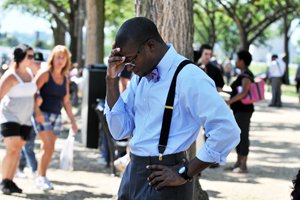 Officials in Culpeper, Va., declared a state of emergency. Schools were closed Wednesday.
Survey officials say this was the largest quake to hit Virginia since 1897. Two aftershocks were reported at 2:46 p.m., and later at 3:20 p.m. It is not clear if the metropolitan region will experience additional tremors.
In Washington, Reagan National Airport was temporarily closed. That left thousands of travelers stranded. Officials evacuated and then temporarily locked down the Capital complex until early evening after a thorough inspection of Capitol, House and Senate buildings. National Park Service officials also closed the Lincoln Memorial, Washington Monument, The Old Post Office Tower, and the Jefferson Memorial.
The quake caused delays on VRE, MARC and Metro trains. And along the tracks, officials inspected them to ensure that there was no damage or additional problems. Other officials also inspected the struts, joints and bearings on bridges, and eye-balled tunnels and other structures.
The gridlock, emergency responses, and general confusion will surely raise questions about the effectiveness of the city's and region's emergency preparedness. This is the first time since 9/11 that the District and federal government has had the opportunity to observe whether evacuation procedures work or not.
Ron Hampton, a retired Metropolitan Police officer, said he was running errands in Arlington, Va., when he noticed that his vehicle and the one beside him were shaking.
"It was violent, really rough," said Hampton, who said he spends his free time working on education issues in the District. "I was in Los Angeles in 1992 when there was a 7.2 earthquake. It was about 1 a.m. in the morning and I woke up to see my bed dancing across the room. It captivated me."
Hampton stood on the street talking to his brother Donald about the earthquake and its effect on them and other people.
"It goes to show that the men who flew those planes on 9/11 did what they intended," said Hampton, a native Washingtonian. "They accomplished their mission, which was to throw freedom-loving people into fear."
"People are so much on edge," interjected his brother. Donald Hampton said he thought someone had blown up the mall complex in Columbia Heights. There have been bomb threats before and he thought someone had finished the job.
On the Green Line headed towards Greenbelt, most commuters engaged in conversation and banter about the quake. For many, this was the first time they had experienced an earthquake. Many appeared rattled, a few feinted amusement but some had on their game-faces. One young 20-something woman, constantly shook her head and made the sign of the cross. The air conditioner in one car didn't work and left commuters to cook in the overheated space.
People fanned, wiped off sweat and panted as the train moved at a snail's pace. When the train stopped at each station, commuters boarding the train appeared undecided, balancing the need to get where they were going with having to deal with the car's stifling heat.
In a 16th Street apartment, Eritrean national Hanna Okubamicael's fight or flight instinct kicked in. She said she grabbed her baby and flew down several flights of stairs.