DC VOICE Holds Community Walk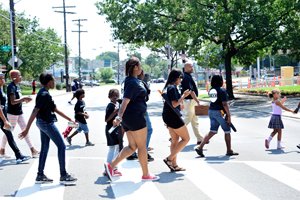 On Sat., Aug. 20, local education non-profit DC VOICE and dozens of youth from Ward 7 marched in a community walk to confront local stores that have sold underage youth tobacco products. The youth and DC VOICE succeeded in convincing over five local stores to pledge to stop selling youth tobacco products. As part of a Safe Passages initiative and anti-tobacco campaign, DC VOICE have worked with youth from Clay Terrace, Stoddert Terrace, and Benning Terrace in Ward 7 this year to provide civic and leadership skills, and to stop underage tobacco use in the community.
Leading up to the community walk, DC VOICE trained the youth from the different neighborhoods in Ward 7 on government, policy, citizenship, and civic responsibility. The workshops gave students knowledge on how to change their community through political and community action. DC VOICE partnered with Sasha Bruce, one of the largest and most experienced providers of youth services in DC, in Clay Terrace, and with local community leaders Denise Hill in Benning Terrace and Karen Settles in Stoddert Terrace.
Over the weeks, students analyzed the root causes of underage tobacco use in their community and ways to combat the problem. With the guidance and help of DC VOICE, the youth from these groups researched and documented how pervasive the problem was in their community the week before the community walk. The groups of Ward 7 youth, with the supervision of DC VOICE, ranging in ages from 13 to 17, were able to purchase forty-nine tobacco products within walking distance of their schools through separate transactions over the course of just four hours. Their research gained the attention of ABC Channel 7 News, which aired a story on the research the Friday before the community walk.
After their research, the youth formed a checklist of over fifteen action items they wanted these local businesses to complete to support and better the community. The checklist included: stop selling tobacco to minors, donate money to local recreation centers, donate school supplies, sponsor local sports teams, and other demands.
On the 20th, a brigade of the youth from Ward 7, DC VOICE staff and volunteers, and local community members, marched back to the stores that sold tobacco products and confronted business owners on Nannie Helen Boroughs, Minnesota Avenue, and Benning Road. Though all the stores denied selling tobacco products to youth, all of the stores signed the checklist and agreed to place a sticker on their door that stated they supported safe passages for youth to and from school.
DC VOICE will continue to work with the youth from Ward 7 and local community leaders to ensure that the success of the community walks spreads and that access to tobacco products by youth in the community will be eliminated.