Fishing on the Anacostia -- Recipe for Toxic Soup?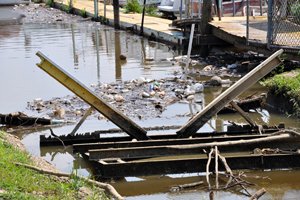 A catfish with a head as big as a man, a near 12-ft codfish, someone dumping a stove and refrigerator into the Anacostia. This may sound like urban lore, but fishermen on the Anacostia say they saw it with their own eyes. On Aug. 20, Joe Bush cast his line from a location near the Seafarer's Club at 1950 M St. in Southeast. Established in 1945, The Seafarers Yacht Club is the first African-American boat club in the U.S.
"I've been coming here for 15 years and this is the first time I've gotten out to fish this year," Bush said, baiting his line with shrimp. "I catch catfish and give them away, I haven't eaten them, but a lot of people eat them."
Bush said he once saw someone put a stove and refrigerator in the waters of the Anacostia. Still he fishes there.
"Pollution is everyplace. You can get sick anywhere. I do this to have fun and get away from home," he said.
Like Bush, Michael Smith said he doesn't eat the fish he catches in the Anacostia. "I catch them, I throw them back. I do it for fun and I come here all the time," he said. "I don' touch or eat anything out of here."
Dominic Bowman is responsible for cleaning the Capital Riverfront around Yards Park and though he was spotted fishing, himself, says it was his first time. "I see people fishing here all the time catching fish. Some of the older guys fish to eat on the other side (of the river)"he said. Bowman said he once saw a catfish with a "head as big as a man."
On that day, trash could be seen in the brown, murky water and along the banks of the Anacostia River, yet the state of the river wasn't a deterrent for these fishermen.
On Aug. 15, a sheen was reported to officials and a joint effort between city (Fire Department, Harbor Patrol and District Department of the Environment (DDOE) and federal officials (Coast Guard) to contain the unidentified substance. The Associated Press reported that Christophe Tulou, DDOE director, said the substance is now believed to be dust or silt that was disturbed during strong rainstorms on Aug. 14 and 15.
Howard Gasaway, a member of the board of directors for the Seafarers, said the condition of the river doesn't surprise him. "This river has had its share of contamination," he said. "There was coal from a CSX train and a big oil slick from the Navy Yard several years ago."
(mov)roy-fishing(/mov)
Gasaway, a former paratrooper, avid yachtsman and boating safety instructor, said that he and the Seafarers Yacht Club spearheaded an effort to clean the river up in 1984.
"We were down here [at the club] with then-Mayor Marion Barry. We were walking to my boat and Barry said, "Howard why don't you do something about this river," I said it's not my river, it's yours and I need your support to do something about it.'"