Fishing on the Anacostia -- Recipe for Toxic Soup?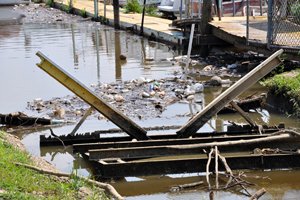 Gasaway said Barry gave his support, and in 1985, the group began the Seafarers Yacht Club annual cleanup which later became the annual Anacostia River Clean up. The Seafarers have since partnered with the Anacostia Watershed Society to aid in the cleanup effort.
While Gasaway is working toward a cleaner river, he doesn't recommend eating the fish in the Anacostia. "The fish are contaminated. I don't recommend eating the catfish or cod from this river."
Irv Sheffey, field organizer for the Sierra Club, agrees, and is adamant about the dangers of eating fish from the Anacostia.
"Sadly people are eating the fish and they shouldn't." Sheffey said. "I saw someone catch a big catfish and I knew he was going to take it home. The Anacostia is a toxic soup of PCBs (Polychlorinated biphenyls), PAH (polyaromatic hydrocarbon) and other assorted chemical, which enter the food stream. Please don't eat the fish."
Former Mayor Adrian Fenty signed the landmark Anacostia River Protection and Clean Up Act of 2009, which requires stores that sell food to charge five cents for each plastic or paper bag distributed at the point of purchase. The store keeps one- to two cents of the fee, and the remainder goes to a special fund aimed at new efforts to restore and protect the Anacostia River.
"I hope the bag tax will be used to clean up the river, but we have a long way to go," said Gasaway.