Mystics 2011 Capital One Bank Community Champion Award
8/24/2011, 10:35 p.m.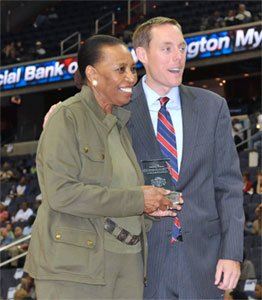 Presented to Lucille Wise Hester, Counselor and Athletic Director at Hardy Middle School, in the D.C. Public School System and Executive Director of Youth Visions Inc.
Youth Visions, Inc., a 501c3 international leadership program providing youth the opportunity and the means to travel abroad, to acquire valuable experience, and to establish relations academically, economically, artistically, and athletically at no cost to participating youth. The youth in this program are selected based on their conduct and accomplishments, and have ventured to sports, artistic, and cultural events in countries around the world, including but not limited to, Sweden, Germany, Israel, Ghana, South Africa and Japan.
Throughout her life, with an amazing eye for sport talent, both tapped and untapped, Hester has mentored numerous young adults who have gone on to hold positions in the educational, medical, business and sports world. These men and women work in schools, colleges and universities, and in professional sports as administrators, coaches, journalists, attorneys, and sports agents
This year marks Ms. Hester's 50th year of consecutive employment in education where she still makes a difference in the lives of children, adults and communities, nationally and internationally. Ms. Hester's community impact is so powerful in the opportunities she offers to youth, adults and the community at large, all on a voluntary basis, such as, incorporating the community to be apart of activities that becomes life time careers.