Picking Up the Pieces After Hurricane Irene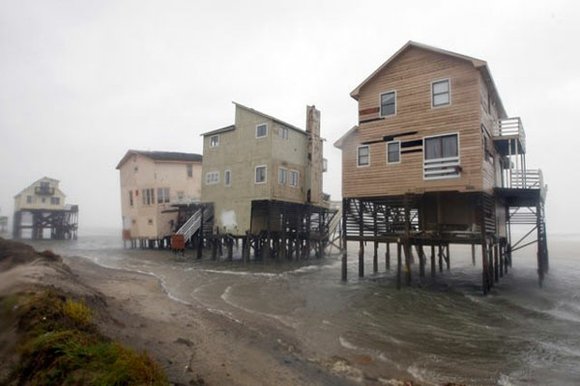 In the wake of this season's first hurricane, residents in Prince George's County experienced power outages for days, basements flooded and debris littered roads after Irene swept the area late Saturday afternoon into Sunday morning.
Guyana native Leila Kisson has worked at the Natural Health Center on Branch Ave. in Temple Hill, Md., for 10 years. She was at work when the storm hit.
"The wall started shaking, the wind was blowing and things were falling down in the store. The vitamin case broke and people were helping me pick things up," Kisson said. "It was very scary. I've never been through something like this before."
Regina Young of Capitol Heights, Md., is a first-time homeowner who is now dealing with the fallout from Hurricane Irene.
"There was very heavy rainfall, strong winds, trees fell down in my neighborhood. I lost power. My cable, phone, and Internet finally came back Monday around 5 p.m.," Young said. "Water also got in my basement and soaked my carpet and clothes. I can't recall the last time I saw rainfall that heavy."
According to Robert White of Laurel, Md., huge amounts of rain and debris strewn about the ground increased his commuting time significantly.
"I noticed a lot of branches and power lines down, the road was very wet and slippery," he said.
The Maryland Department of Public Works and Transportation (DPWT) is currently performing clean-up operations along county roadways. All trees blocking roads have been cleared with the exception of locations where fallen trees are tangled with utility lines.
Susan Hubbard, DPWT's public information officer for Prince George's County, said it will be a few days before officials have a full damage estimate.
"Damage was evenly distributed throughout the county," Hubbard said. "We have 24 roads still closed [as of Monday] and we have to wait until Pepco disengages the electric before we can get to the tree branches that are tangled in the power lines."
DPWT does not remove or dispose of debris from private property. Residents are encouraged to take their debris to the following sites which will be open until Sept. 4:
Brown Station Road Sanitary Landfill - Residents may enter the facility at 11611 White House Rd. in Upper Marlboro. Residential vehicles allowed to dispose of their storm-related yard waste include pick-up trucks, passenger vans, SUVs, sedans and other passenger vehicles.
Prince George's County Yard Waste Composting Facility - The Yard Waste Composting Facility, located at 6601 S.E. Crain Hwy. in Upper Marlboro, will be open for residential vehicles and municipalities to dispose of their storm-related brush and tree limbs, free of charge. The extended hours for disposal will also apply to commercial vehicles at their regular fee.
Sandy Hill Landfill - The Sandy Hill Landfill located at 9500 Old Laurel Bowie Rd. in Bowie, will be open for residents in northern Prince George's County to dispose of their storm-related yard waste free of charge.
Missouri Ave. Acceptance Site - The Missouri Ave. Acceptance Site, located at 12701 Missouri Ave. in Brandywine, will be open for the residents in southern Prince George's County to dispose of their storm-related yard waste free of charge.
The maximum size for storm-related yard waste debris that will be accepted at the facilities is 5-feet long and 10-inches in diameter. Verification of county residency will be required upon entering the facilities.
Yard Waste Collection - Residents may also dispose of their storm-related yard waste by placing it at the curb on their regularly scheduled collection days. Limbs must not exceed 4-feet in length and 3- inches in diameter, and must be securely tied in bundles. Other yard waste must be placed in securely tied, heavy-duty plastic bags, paper yard bags or heavy-duty trash cans with handles and a secure lid.
To report trees down on county roadways, call DPWT at (301) 499-8520.
For more information on disposal of storm-related brush and tree limb debris, call The Department of Environmental Resources Waste Management Division at (301) 883-5045.