Key Aide to Michele Bachmann Once Charged as Terrorist in Uganda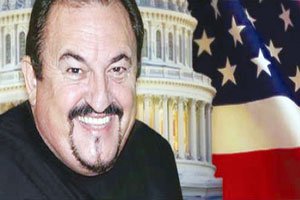 A political organizer who helped send Congresswoman Michele Bachmann to victory in the recent Ames Iowa straw poll faced a life sentence in Uganda in 2006 on a gun-running charge.
Peter E. Waldron was held for 37 days, along with six Congolese and Ugandan nationals, in Luriza Prison, outside of Kampala. They were charged with possession of assault rifles and ammunition. Waldron was deported back to the U.S. reportedly after intervention from the Bush Administration.
Waldron, originally from Wyoming, spent several years in the East African country. The Kampala Monitor reported he was working with a Congo group to set up a Christian political party in Uganda. He also reportedly told a friend he has worked for the CIA.
He was also rumored to have been working with Congolese rebel militia members to capture Joseph Kony, leader of the Ugandan guerrilla group the Lord's Resistance Army, and claim a $1.7 million bounty on his head but that planning for the operation went awry, leading police to Waldron's house and the guns.
Waldron's East African ordeal is detailed in The Ultimate Price: The Peter E. Waldron Story, a film whose trailer was abruptly removed from YouTube after The Atlantic online magazine carried a piece on it. A synopsis of the film reads as follows:
"Lebanon. Iraq. Syria. Afghanistan. Pakistan. Uganda. India. For over 30 years, his family never knew where he went -- never knew what he did. Based on a true story, Dr. Peter Waldron was on a mission. Was he a businessman, a preacher, a spy? Tortured and facing a firing squad, he never broke his oath of silence. What secret was worth the ultimate price?"
For now, presidential hopeful Bachmann is standing behind her man.