Marcus Garvey Words Come To Pass
WI Staff | 8/31/2011, 1:47 p.m.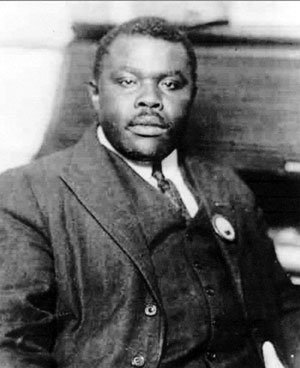 "The struggle for manhood is the continuing battle of one's life, and one loses a bit of that manhood with every stale compromise he makes to any authority he does not respect."
- H. Rap Brown
For the last several months, an advertisement on a number of Washington, D.C. metro station platforms has piqued my interest. What grabbed my attention is a grainy, black and white photo of a large group of black men standing as one, each holding large placards with four simple words: I AM A MAN.
None of the men appear to be rich or flashy. Their apparel is modest. They appear to represent regular, ordinary men who, despite danger to themselves and their families, felt impelled to stand up and assert their humanity, dignity and worth. This in America at a time (1960s) when black and brown people, en masse, stood up to a power structure which for centuries had relegated them to the sidelines using intimidation, brute force, extreme violence and other methods to beat them into submission.
What is unmistakable as you look at each of these men is their pride, their bearing, and the projection of an aura that embodies the highest ideals of African manhood.
I AM A MAN.
Brave men and women who stood up to the hollow, empty and inhumane tenets of white supremacy were and are the spiritual heirs of Marcus Mosiah Garvey. Garvey (1887-1940) was the man who in the early years of the 20th century built the largest mass movement of black people - 6 million - in history. Through the Universal Negro Improvement Association, Garvey organized a number of business enterprises, including a fleet of ships called the Black Star Line, the Negro Factories Corporation, a chain of grocery stores, a restaurant, a millinery, and a publishing house.
Such was Garvey's influence nationally and globally, he kept people like J. Edgar Hoover awake at night plotting and scheming how to bring this "uppity nigger" down. Hoover used the FBI to infiltrate Garvey's organizations and was finally able to halt Garvey's progress with flimsy charges of mail fraud for the paltry sum of $25. Garvey was imprisoned in 1925 in the Atlanta Federal Penitentiary before being deported to Jamaica in 1927.
Since that time, generations of Garvey supporters and people seeking to right a grievous wrong have sought to persuade the U.S. government to pardon Garvey for what obviously was political persecution.
Fast forward to the 21st century.
Every week for the past eight months, Donovan Parker, a Florida-based, Jamaican-born attorney wrote to President Barack Obama requesting a posthumous pardon for Garvey. Likewise, Jamaican-born poet and writer Geoffrey Philp initiated a petition campaign for the same goal.
In the past two weeks, Jamaica's Sunday Observer procured a copy of a letter sent by Parker to Obama and the White House's response.
"Marcus Mosiah Garvey is also a National Hero of Jamaica, West Indies and a leading forebear of the African American civil rights experience," wrote Parker. "It is full time that this extraordinary human being of humble beginnings and strong moral character be pardoned by the pen of an American president. It would be fitting if both you, Mr. President, and the first lady, visit Jamaica for the purposes of signing the executive order pardoning Marcus Mosiah Garvey."