Metro Area Dodges Irene's Wrath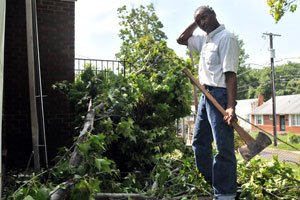 Residents in the Washington metropolitan area began the inevitable clean-up following a weekend visit from Hurricane Irene. People in the District and surrounding region hunkered down for what forecasters predicted would be a storm packing a potential knockout punch just days after a 5.9 earthquake rattled buildings and nerves.
Irene made landfall in North Carolina bringing fierce rains and wind gusts of more than 110 miles an hour, which precipitated flooding and the collapse of trees, power lines and other structures. As of Tuesday morning, at least 27 people had died as a result of the storm.
The hurricane had weakened considerably by the time it roared into the area, but it still left several hundred thousand without electricity Monday, August 29. At the same time, an estimated 6 million people were in a similar position up and down the Eastern seaboard, from North Carolina to Maine.
Predictions that this powerful storm would ravage the area proved to be unfounded, but downed trees and power lines as well as flooding in parts of Prince George's and St. Mary's counties caused ongoing headaches for residents and city officials.
Mayor Vincent C. Gray praised the city's response to the hurricane Sunday evening. He said the District of Columbia fared well during the onslaught of Hurricane Irene, citing the fact that there were no deaths, only minor damage and less than 10 percent of the nation's capital was without power.
"I am thankful the District of Columbia was spared the brunt of Hurricane Irene, and that our city agencies and federal and regional partners have worked together according to our disaster-preparedness plans" Gray, 68, said. "While we don't have all problems rectified yet, we fared much better than we could have."
Gray, city officials and regional partners provided updates on the status of infrastructure, city services and those displaced by the storm during a press briefing at Kennedy Recreation Center in Northwest.
The mayor toured spots where the storm had caused the most damage. Thirteen schools in the District were without power and officials closed those schools on Monday while the rest of the school system opened as usual. The hurricane dumped well over a foot of water in some places and spurred the evacuation of hundreds of thousands of people in New Jersey and New York City.
Gray said officials assessed more than 100 roads for problems Sunday. Fourteen roads were closed and an additional 22 roadways reopened.
Northern Virginia resident Melissa Williams said she was surprised the storm turned out to be a kitten and not a lion.
"We've had worse thunderstorms," she said. "It wasn't bad during the day just windy. Where I live, they had just come out about a week before and cut down or pruned all those weak trees."
Williams, a 25-year-old student, said "it's that time of year," referring to hurricane season.
"I feel kind of silly though because we stocked up with food and canned goods, and filled 'tons' of containers with water. But I guess it's better to be safe than sorry."