Metro Area Dodges Irene's Wrath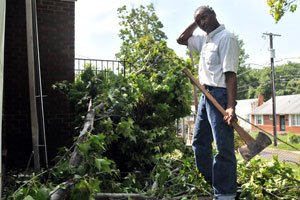 During the height of the storm, he said, as many as 140,000 Prince George's County residents were without electricity.
"There were no direct injuries or fatalities - this is a pure blessing," Peterson said.
He said that 27 roads remain closed and that Public Works and other crews have removed 400 trees felled by the storm.
Peterson added that with some street lights out of operation, there have been accidents.
"We want people to treat intersections without lights like a four-way stop. This morning, I saw so many people just rushing through intersections," he said Monday. "We're doing our best to ensure that the aftermath (of the storm) does not cause any injuries. People should use common sense."
One of Irene's many casualties was the unveiling of the Martin Luther King Memorial. More than 250,000 people had been expected to flock to the National Mall Sunday, August 28, for what was expected to be a spectacular and poignant event - full of pomp and circumstance - but foundation officials were forced to postpone the unveiling as Irene approached. A new date has yet to be determined, but the unveiling should take place in either September or October.
Isabella Leichtman said she was glad that Washington and the surrounding areas were spared. She said she rode out the storm with her family.
"It was not as bad as we thought it would be," said the 21-year-old University of Colorado graduate and Bethesda, Md. resident. "It was fine, actually, nothing much. I expected to lose power for a couple of days. Our lights flickered but didn't go out. Some trees are down, just a few small trees fortunately."