Winter Lauded as Early Leader of D.C. Council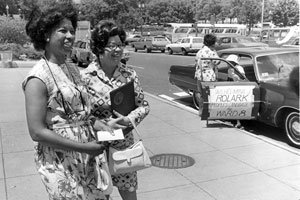 District leaders recently praised the life and the work of one of the first elected members of the D.C. Council who was an advocate for the less fortunate and full citizenship for D.C. residents.
Nadine P. Winter, who was 87 when she died on Fri., Aug. 26, served on the first D.C. Council representing Ward 6 in 1975. D.C. Del. Eleanor Holmes Norton, who is a resident of Ward 6, said that Winter was passionate about the District and the ward she served.
"Nadine, who was one of the longest serving members of the D.C. Council, served before I was elected to Congress, but no one could have missed her innovative and determined to housing as chair of the Council's Housing and Urban Development Committee," Norton, 74, said. "Her work as chair of the Public Works Committee that led the city to recycling stands today as a reminder of service ahead of its time. As a member of our city's first Home-Rule Council, Council member Winter will always be credited for her work in showing Congress that this city needed only the right to make its own laws and to able to do so with the best of them."
Winter, born on March 3, 1924 in New Bern, N.C., came to Washington in 1947 from Winston-Salem, N.C. and immediately got to work on behalf of struggling Washingtonians. She was the founder of Hospitality House, Inc., a non-profit that assisted seniors, the homeless, wayward youth and low-income families and was one of the original organizers of the National Welfare Rights Organization.
Winter was politically active in such organizations as the National Democratic Women's Club and the District of Columbia Women's Political Caucus as well as serving as a delegate representing the District at Democratic National Conventions. She was also a founding member of the National Congress of Black Women.
Winter received her bachelor's degree from Brooklyn College in New York City and a master's from Federal City College.
Her election in 1975, as the legislator to represent Ward 6, which is located in the center of the District encompassing the neighborhoods around Capitol Hill and touches all four quadrants of the city, was a milestone, said D.C. Mayor Vincent Gray.
"As the first and only African-American female D.C. Council member from the diverse Ward 6 neighborhood, Councilmember Winter led the charge for social action and access to social services for all District residents," Gray, 68, said. "Her contributions to the District and its underserved population are immeasurable. Winter was a true warrior for the District of Columbia and her spirit has inspired many to follow in her footsteps."
D.C. Council Chairman Kwame Brown (D) said that Winter holds an inspirational place in the minds of D.C. Council members.
"We are deeply indebted to her service," Brown, 40, said. "She was a pioneer, a champion for the underprivileged and an outstanding legislator.
Winter served until 1991, when she was defeated for re-election by political upstart Harold Brazil. After that, she founded the Health Action Information Network, a non-profit charged with community action on health issues and was an active advocate on behalf of breast cancer survivors.
Recently, she supported the bid of former television journalist Leo Alexander for the Democratic Party nomination for mayor in 2010.
Brown said that Winter's body will lie in repose in the John A. Wilson Building in Northwest on Sept. 1 from 5-7 p.m. He also ordered that flags in and around the Wilson Building be flown half-mast in her honor until the end of Fri., Sept. 2.