Walmart Coming to Skyland Town Center and Fort Totten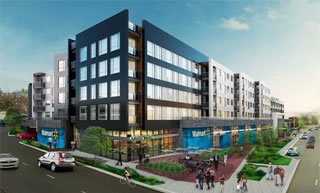 Not Everyone Pleased with Company's Expansion
Walmart, the nation's largest retailer, is set to build six new stores in the District of Columbia, bringing the total of 2,000 jobs for District residents.
In a press statement, Walmart wrote: "The retailer now has six stores planned for the District that will create a combined total of 1,800 retail jobs and 600 construction jobs."
The new stores will be located at Georgia and Missouri Aves., N.W.; New York Ave. and Bladensburg Road, N.E.; 801 New Jersey Ave., N.W.; and Capitol View (East Capitol and 58th Streets, N.E.
D.C. Mayor Vincent Gray and Victor Hoskins, deputy mayor for Planning and Economic Development, recently announced plans to include two more Wal-Mart Stores at the Skyland Town Center at Good Hope Road and Alabama Ave., S.E. in Southeast and Fort Totten Square at Riggs Road and South Dakota Ave., in Northeast.
Zina Williams, an advisory neighborhood commissioner in the Skyland area, said she could not be happier to have a Walmart nearby where she lives.
"I am pleased that Walmart has agreed to become the anchor store for Skyland," Williams said. "A lot of other anchor stores refused to come to Ward 7 and the bottom line is that we have not had anything built at the Skyland site in 22 years. With Walmart coming here, it will give some people hope that this area will be developed."
Karen Williams, the president of the Hillcrest Civic Association, said she supports a Walmart store serving as an anchor for Skyland Town Center.
"We tried to get Bloomingdale's and Nieman Marcus to come over here and they said 'No,'" Williams, 62, said. "With the Walmart there, residents in this area will have sit-down restaurants and decent shopping nearby."
Although many are pleased with Walmart's increased presence in the District, others have concerns about the store's expansion.
"I am very concerned about Walmart's expansion in the District, which is a small city," Arturo Griffiths, a lead organizer with D.C. Jobs for Justice of Northwest. "Walmart will have a devastating effect on small businesses because Walmart sells everything and small businesses cannot compete."
A community partnership initiative was announced by Gray on Tue., Nov. 22 that included an investment of $21 million in seven years to local charities, recruitment of local retailers to provide ancillary services such as coffee and shoe repair shops, the hiring of D.C. residents as a priority. Griffith was not impressed with the initiative.
Griffiths said that any community benefits agreement negotiated by city officials needs to be monitored and that the rights of workers, minorities and women should be protected.
Gary D. Rappaport, president and chief executive officer of The Rappaport Companies, which is developing Skyland, said that Wal-Mart is a key ingredient of the project.
"With Wal-Mart on board, Skyland Town Center takes a significant step closer to becoming reality," Rappaport said. "We will continue to work closely with the city to bring an economic boost that includes new housing and shopping choices to one of the most underserved areas of Washington, D.C."
The Skyland store also faces other hurdles including land disputes and a 1990 covenant protecting Safeway, located across the street from the proposed Walmart location, from competitors coming onto the Skyland site.
The Walmart said the store built at Fort Totten Square, a new, mixed-use development that will include 350 apartments, will be located near the Fort Totten Metro Station.
"Fort Totten Square will be a vital residential and retail community with seamless transit proximity to the Fort Totten Metro Station, providing access to the red, green, and yellow lines," said Anthony Greenberg, development manager of the project for The JBG Companies. "This is a huge benefit for daily commuters, including students and those that work in the greater [D.C.] area. Further, we believe that Walmart is a terrific amenity for our residents as well as the surrounding neighborhood."
Walmart representatives said the Skyland and Fort Totten stores will offer customers "a full grocery selection, including fresh produce, a bakery, delicatessen and organic food items as well as a full service pharmacy and broad assortment of general merchandise."