Young Leaders in Ward 8 Seek Political Power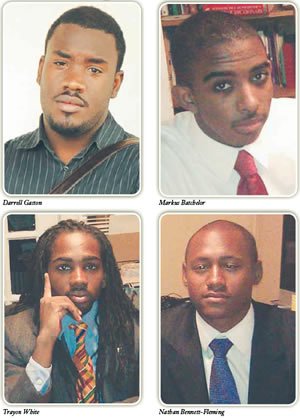 Young adults between the ages of 18-35 in the District's most economically challenged ward are actively pursuing political careers in order to improve the lives of their neighbors.
Ward 8, located exclusively in Southeast Washington, in recent years has produced young political activists and officeholders, all Democrats, who want to change the perception that many in the city have about their community.
"I got into politics because I saw that my neighborhood had no services," Darrell Gaston, advisory neighborhood commissioner for district 8B03 and candidate for the 2012 Democratic Party nomination for the Ward 8 D.C. Council seat, said.
"A friend suggested that I do something about it, and I did. I could not watch my community dwindle," Gaston, 25, said.
A candidate for the Ward 8 D.C. Council seat in the Democratic Party primary in 2008, Gaston ran against incumbent D.C. Council member Marion Barry, and lost. However, he managed to get elected as an advisory neighborhood commissioner soon after that.
Joined by an energetic, enthusiastic group of young people, Gaston, a graduate of Coppin State University in Baltimore who runs his own political consulting firm, is determined to make Ward 8 a better place to live.
Gaston's political interests in the ward are shared by Nathan Bennett-Fleming, 27, a graduate of Morehouse College in Atlanta, Ga. and the University of California-Berkeley School of Law in Berkeley, Calif., who made a strong competitive run for the D.C. Shadow Representative office in 2010.
He fell short despite winning impressive endorsements from the Gertrude Stein Democratic Club and key African-American leaders in the city. Bennett-Fleming, who also studied a year at the John F. Kennedy School of Government on a public service fellowship in 2008-2009, said he wanted to get into politics to improve his community.
"I grew up in Anacostia, but I spent so much of my time in Potomac at my school, Saint Andrew's Episcopal, and I saw the disparity between the two areas," Bennett-Fleming, who is running for D.C. Shadow U.S. Representative in 2012," said. "I would like to use my skills to bring those two worlds closer together."
Bennett-Fleming has received political support and counsel from Ward 8 activist Phil Pannell and Hannah Hawkins, who runs Children of Mine, a Southeast non-profit organization that focuses on helping children.
Trayon White was elected to the D.C. State Board of Education representing Ward 8 in April with backing from Barry, the teachers' union, and Wanda Lockridge, the widow of Calvin Lockridge, who represented the ward on the board until he passed away in January. White, 27, is a graduate of Ballou High School in Southeast and the University of Maryland-Eastern Shore in Princess Anne, Md.
White, who operates HICKS (Helping Inner City Kids Succeed), a non-profit organization in Southeast, said that his interest in the board of education position stemmed from his relationship with the Lockridge family. "I learned through civic engagement that everything is political," White said. "I wanted to join some of my colleagues in the political realm to make a difference in the community."