Young Leaders in Ward 8 Seek Political Power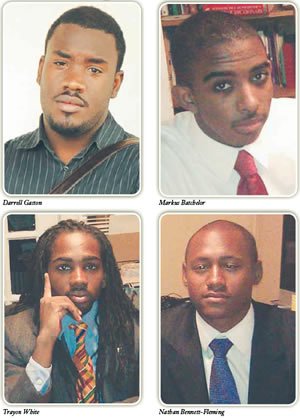 Markus Batchelor, 18, a former youth mayor of the District, was elected first vice-president of the Ward 8 Democrats in September. Batchelor, who is a graduate of the highly respected Thurgood Marshall Academy Public Charter School in the ward, said he attended that school because of its emphasis on public policy and politics and it was close to home.
Batchelor is a freshman at George Washington University in Northwest and president of the D.C. Statehood Students Association, of which Bennett-Fleming is the executive director. The organization aims to get more students and young adults in the fight for the District to become the 51st state.
Batchelor said his mentors in politics include Pannell and Bennett-Fleming.
Wanda Lockridge, a prominent Democrat in Ward 8 and D.C. politics, said she supports young political leaders.
"To be honest with you, I love them," she replied. "I was their age once, and they bring a whole new element to the ward. They are totally committed and I am ready to pass on the baton to them."
In Ward 8, the dominant political figure, Barry, served four terms as mayor of the city and was first elected to the D.C. Council from the ward in 1992.
"Barry's political career has directly or indirectly fueled the younger generation's activism," Chuck Thies, 46, a D.C. political analyst said. "It is great that you have this political talent coming out of Ward 8," he added. "You have young people in the community in politics that can move the city into the 21st century."
"That is precisely the idea," Batchelor said. "My motivation in getting into politics is to help people, and I love the community. I don't need the recognition or the paycheck. I would do it for free of charge."
One of Batchelor's projects as the first vice president of the Ward 8 Democrats is to set up Democratic clubs at Ballou and Anacostia High Schools.
He said, "Young people in the ward need to become more politically active." He continued saying, "We need to inform young people about the issues and change their mindset regarding politics."
According to Bennett-Fleming, "Political activism among young Americans increased significantly with the 2008 Obama-Biden campaign."
He feels that the enthusiasm and energy generated three years ago is still present among the young people in the ward. It appears that older political leaders are beginning to nurture electoral ambitions of the young.
"I would really like to commend such Ward 8 leaders like Phil Pannell for mentoring us," Bennett-Fleming said. "We want to be good leaders for the ward and the city."
Thies, a fan of Bennett-Fleming said, "I love Nathan Bennett-Fleming. I remember at the 2010 Democratic Party Unity Breakfast, where Vincent Gray, who just defeated Adrian Fenty, for mayor, saw Nathan and hugged and high-fived him. I mentioned to Gray that, hey, you just high-fived a future mayor of Washington." Thies said that Gray laughed and smiled.
"Bennett-Fleming is paying his dues," Thies stated. "Nathan does the work and has the law degree. He worked for [former D.C. Council member Sekou Biddle] and ran for shadow representative. He is young, hardworking, and entrepreneurial and is not just an east of the river guy, but he is a city-wide guy."