Evangel's Christmas Celebration Captures All Elements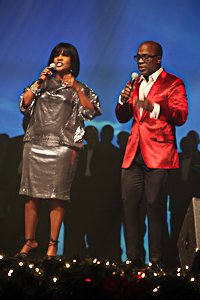 Evangel Cathedral's production of Christmas Celebration 2011 captured all of the elements of the birth, crucifixion and resurrection of Jesus Christ in just two and a half hours.
The production opened with hundreds of cast members marching down the aisles wearing 18th Century costumes followed by a horse drawn carriage galloping across the stage. Actors dressed as toy soldiers, clowns, ballerinas, and a myriad of toys led into a gospel hip-hop dance scene. The scene featured Ty Tribbett singing Stand Out and Victory with a highly energetic choreographed dance routine with youthful performers.
As if they watched countless Motown performances, the youngest actors, dressed in costumes reminiscent of the label's legendary artists, lip-synced hits by Diana Ross and the Supremes, Aretha Franklin, Tina Turner, B.B. King, The Jackson Five, Luther Vandross and others. The actress portraying Patti LaBelle did a 20-foot kick-off of the heels - mimicking Ms. LaBelle's trademark feature during Somewhere Over the Rainbow. Michael Jackson's actor had not yet perfected the Moonwalk, but he skillfully performed a crowd-pleasing dance routine to Beat It and Thriller. Jennifer Holiday's character included a back bending arch suitable only for a child under age 11.
The adult cast returned to the stage to Handel's Messiah: A Soulful Celebration's, Hallelujah. BeBe and CeCe took the audience to a level of worship with their song Grace, and high-energy gospel artist Vickie Winans sang It's Alright. Marvin Sapp left the audience teary- eyed when he sang Never Would Have Made It and The Best in Me. While Donnie McClurken mellowed it out with his song, Special Gift. Beverly Crawford put everyone in the spirit of praise with He's Done Enough.
Scenes depicting blind Bartamaeus and the man with the legion of demons stood out with costumes suggesting the Biblical era and exaggerated make-up for wild-eyed demons, including a voice box to lend an eerie aura.
There was the portrayal of Jesus on the way to the cross, each lash of the whip producing a red-stained appearance of blood on the actor's body. In a scene with a winding hill 30 feet above the main stage, he slowly made his way upward as men and women wailed and, eventually, he was positioned firmly between two crosses. Fade-to-black and an unexpected 10 minute finale begins with a wonderful medley of the "Blood" songs by the gospel artists, a spoken-word, a mime presentation, and culminating with a crowned risen savior.
Bebe and CeCe, both first time participants in the Celebration, said they love seeing the children [perform] and doing what they love to do - "singing and dancing and it's a great celebration," said CeCe.
She added, "We have so much talent out here and not enough platforms for it so I really applaud Bishop Meares and Evangel for what they do on a consistent basis."
Said BeBe, "I think this is how you train up a child. We become [who] we are because of other people taking out time to pour into our lives. So you have to ask yourself who are you taking out time to sow seeds into. Because all of us get so busy in our lives that we forget the very important part of preparing the next generation."