Evangel's Christmas Celebration Captures All Elements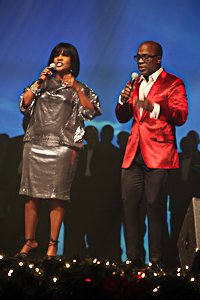 To both, the real meaning of Christmas is Christ. "It's the reason we do what we do. Christ is always the center of Christmas. There is always hope. We do what we do to bring hope. No matter what situation you are in, keep on believing, keep praying and take it one day at a time and it will get better," said CeCe.
Sapp, who has participated in this production for at least 15 years, gave an outstanding performance.
It started during the Friday night dress rehearsal. Sapp, 44, was in the audience watching along with a few of the gospel artists, when a cast member sang a few stanzas of his Never Would Have Made It, he took to the stage and offered a moving performance to the delight of the audience.
Sapp's relationship with Evangel Cathedral started in 1990 when he was with the gospel group Commissioned and performed his first concert at the church.
Of the production he said, "All of the things that make this show what it is, is unbelievable. I love it. As a recent widower, this season for me is about family."
When asked how he balances being on the road and pastoring a church, Sapp said, "It's not really balancing, because when you think of balancing, you're trying to figure it out and when you start juggling you might drop something, so I prioritize and make everyone know what's important. Number one, I'm a father above anything else, and then it's my church, my musical career and then the other - my businesses, opening a full-service salon, publishing a book, owning a restaurant, all of it in its proper priority."
Sapp said he believes his assignment is as a conduit, giving other artists the opportunity to do something great. "When it's your life and it's your commission this is just what you do. I understand my responsibility - God will be glorified, the people will be edified and the enemy will be terrified."
Second-time returning participants McClurkin and Tribbett spoke briefly with The Washington Informer in between performances. "I love that the attention is being brought to the real meaning of Christmas in a huge way," Tribbett said. "In the kingdom of God, we passively push our message but I love that [this production] is energetically and aggressively pushing the message."
McClurkin said, "People have been trying to take Christ out of Christmas since Christ rose from the dead. They have been trying to take Christ out of society, out of schools, and out of government, the law systems and the whole nine yards throughout the country ... until the earth crumbles and becomes destitute you will never be able to extract Christ from the element of society. We want people to remember with the simplicity of the message that Jesus Christ was born to die."
One of the executive managers of the Christmas Celebration, Elder Kevin Matthews, said each year the production is tweaked. A core team of Christmas Celebration members, who have not changed over the last seven years, begin planning next year's show as soon as the current one ends. Some aspects of the music are pre-recorded while most of it is live.
The Friday night performance was free for a select non-profit community. Throughout the show schedule the church continues in the spirit of Christmas, offering attendance to non-profit organizations helping homeless individuals. The attendees are able to view the performance, dine and fellowship with the ministry, and receive clothing and care packages.
"It was wonderful! I thoroughly enjoyed it," said Rebecca Desormeaux, 50, who traveled from Baltimore. "More and more generations need to know the true meaning of Christmas."
"This was fantastic! It is so inspiring to have African-Americans produce a cultured presentation for all ages," said George Vaughn, 55, of Clinton, Md.
Catherine Jones, 65, also from Baltimore, said, "I loved it! I plan to come back!"
This hand-clapping, foot-stomping, tears rolling Broadway styled musical is definitely one for the category of great Christmas musicals.
Evangel Cathedral's Christmas Celebration 2011 is located at 13901 Central Avenue in Upper Marlboro, Md., and runs each weekend in December (except Christmas weekend), with three shows on Saturdays at 12 noon, p.m. and 7:30 p.m., and one show on Sundays at 5 p.m. Please visit www.washingtoninformer.com for more information.