Grand Lucayan Resort (Freeport, Bahamas) on Vision Airlines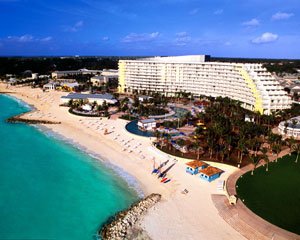 As we approach the official start of winter, with temperatures teetering a few degrees from freezing, trepidations of rain turned to ice and ice turned to snow, some say it's their time of year. For others, it is just time to buy a new snow shovel, gather salt to melt snow, get a few more blankets, and to make cars and homes winter-ready.
Not quite ready to deal with the cold? Vision Airlines has made it a little bit easier for Washingtonians to take a quick get-away to the sunny, tropical climate of the Grand Bahamas. The airline is offering direct flights from Thurgood Marshall BWI airport to the city of Freeport in the Grand Bahamas Island with special package prices that could include a stay at the Grand Lucayan resort with its wonderful contemporary, spacious and clean rooms.
The Grand Bahamas owes its popularity to its beaches with beautiful smooth white sand, and water sports ranging from snorkeling to deep-sea fishing.
Water temperatures average 80 degrees Fahrenheit year-round. During the winter months, December-January, a light sweater or jacket may be needed for the cool nighttime weather (mid-60 degree temperatures).
The Bahamas has the world's third longest barrier reef, a diver's heaven. According to avid divers, diving in the Grand Bahamas is breathtakingly stunning. Most famous for its "Blue Holes" and azure portals in the reefs, it also has the second largest underwater cave system in the world, the Lucayan National Park.
Miles of sunny beaches coupled with its close proximity to the United States makes the Grand Bahamas an excellent and affordable choice for Washingtonians anxious to take a break from the cold weather.
Lucayan Beach, directly in front of the Grand Lucayan resort, has water sports outfitters, bars, restaurants, and equipment rentals. Directly across the street from the resort is a company offering visitors an opportunity to interact and swim with dolphins and other water activities such as feeding Caribbean reef sharks and scuba instructions.
Local restaurants tantalize the taste buds with exotic Caribbean spices providing delicious food in a laid back atmosphere. Numerous Island restaurants offer the island delicacy conch, a shellfish native to the island.
For the eco-tourist, an excursion on horseback touring the Island's ecosystems from orange groves and wetlands, to pine tree forests is definite for pleasurable memories.
Public buses, taxis, rental cars, motor scooters, and bicycles all make getting around in the Grand Bahamas easy.
The locals in the Grand Bahamas are very friendly and most are eager to make sure visitors consider a return trip. According to the Bahamas Ministry of Tourism, there are over 500 Bahamian ambassadors ready to assist visitors and introduce their culture through authentic home-cooked meals, storytelling and sightseeing.
Shopping in Port Lucaya Marketplace presents duty free perfumes and fragrances, fine linen and tablecloths, watches and clocks, crystal, jewelry, electronic equipment, and china.
There is something for everyone visiting the Grand Bahamas Island, from shopping and beaches to dining and gambling.
In less than two and a half hours and on a budget, being frugal, or seeking luxurious accommodations, Grand Bahamas Island is a quick summer reprieve from winter.