Denise Rolark Barnes Awarded Olender Foundation Generous Heart Award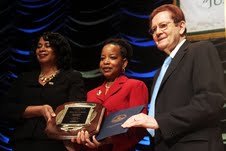 WASHINGTON, D.C. -- Denise Rolark Barnes, publisher of The Washington Informer, has been awarded the Jack and Lovell Olender Foundation Generous Heart Award. Past recipients of the prestigious award include comedian, actor and telethon fundraiser Jerry Lewis, world-renowned neurosurgeon Dr. Ben Carson and Washington Redskin Super Bowl quarterback Doug Williams.
Ms. Rolark Barnes was recognized for her outstanding work in serving the African-American community. In addition to her work at The Washington Informer, Ms. Rolark Barnes maintains the Washington Informer Charities, a non-profit organization that promotes literacy and sponsors internship opportunities and writing competitions for students interested in pursuing careers in journalism.
For the past 29 years, the Charities has served as the official sponsor of the Washington Informer Spelling Bee, a local participant of the Scripps National Spelling Bee.
Ms. Rolark Barnes is executive producer two television programs--Washington Informer News and Let's Talk. She also discusses local issues on Radio One. Ms. Rolark Barnes is president of AARP-DC and serves on the boards of several non-profit organizations, including the Historical Society of Washington and the Maryland-Delaware-D.C. Press Association. Ms. Rolark Barnes is a member of Leadership Greater Washington.