African-American Merchant Thrives on H Street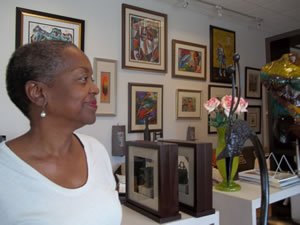 Some African-American merchants have disappeared from the H Street,NE corridor. Others such as Edith Buffalow forge on.
Here, at 654 H Street, NE in the showroom of her Adobe Design Center, Buffalow is surrounded by a collection of art and furniture she finds in far away corners of the globe. Her clientele has a taste for the unique which has led Buffalow to many exotic places, such as Indonesia, India, Taiwan, Mexico and South Africa.
"We visit these places to pick our art," Buffalow said. "We try to pick those pieces that are different so that our customers won't see them in everybody's house."
When Buffalow isn't traveling, she indulges in the growing D.C. art scene on the corridor.
"This is ideal," Buffalow said. "It's just exciting to be here in the growing process of H Street--seeing how more and more people are coming out and looking around. Everyday our business gets better."
The H Street, NE corridor is the first of the areas in the District that former Mayor Anthony Williams targeted for revitalization. H Street, once known as a "Broadway" of retail for African- American shoppers, was devastated by the 1968 riots which were sparked by the assassination of Martin Luther King Jr. Now, H Street is getting a long overdue makeover which includes a growing community of retail, housing and transportation. But the makeover hasn't been all good for merchants. Increased property taxes and ongoing construction, preventing easy access for customers, have caused some businesses to go under. Adobe, opened less than a year, came into being when many businesses on H Street were hanging on by a shoe string because of the revitalization projects that disrupted business on the corridor. On the one mile and a half stretch of the H Street corridor there were 37 beauty parlors, barber shops and nail salons in 2002.
"Now you have just a few," said Anwar Saleem, executive director of H Street Main Street, a nonprofit created in 2002 that represents the interest of H Street merchants.
Buffalow is determined to make a go of it. She wants to create an art experience for her clientele. Next summer's plans include having a garden area in the back of her two-level gallery and an evening art shows out on the sidewalk.
Adobe has been added to the list of art organizations that have decided to make H Street home, such as Atlas Performing Arts Center, Joy of Motion Dance Center, H Street Playhouse, Studio H Gallery, African Continuum Theatre, Washington Savoyards and In Series. Connor Contemporary Art moved from DuPont Circle to Florida Avenue, off the H Street corridor, because high rent forced the gallery to find a new space.
Before opening the doors of her Adobe Design Center on H Street, Buffalow started having art shows at her home in Silver Spring, Md. She sold 16 pieces of art at her first art show, and she became obsessed. That was in 1988, nearly 25 years ago.
"This may not be a bad part-time job," she said of the success of her home based art show. "At the time there were not a lot of places for African-Americans to show their work."
For the next four years, she worked out of her home, specializing in African-American Artist, such as Joseph Holston, Charles Bibbs, Poncho Brown and Sylvia Walker.
Then she opened Ramee Art Gallery at 14th and Colorado streets in NW where she stayed for 14 years. On Saturday mornings people stopped by the gallery and talked about their art, drank hot chocolate and ate donut holes.
"I run into people today, and they say, 'Oh, we miss you on 14th Street.'"
Ten years into the business, Buffalow opened two other locations, one in Georgetown and the other on Rhode Island Avenue NE. Over the years, the three galleries closed their doors before she moved to the present H Street location.
"I'm so happy to be able to get in on H Street," Buffalow said.