D.C. Council Focuses On Ex-Offenders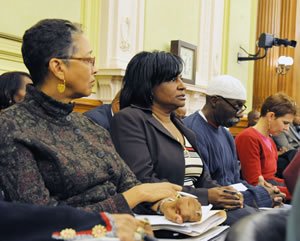 One day after the Council for Court Excellence (CCE) held a press conference to share the findings of a major Ex-Offender study with the public, D.C. Councilmember Phil Mendelson (D-At-Large) chaired a hearing focused on ex-offenders, their needs, the programs available and the countless difficulties they face once released from jail.
The Council hearing, held on Friday, Nov. 18, was the first in 10 years. For several hours, lawmakers heard testimony from 139 individuals and representatives from non-profits, governmental organizations, the private sector and city officials.
Outside the fifth floor of the Council chambers, several ex-offenders said that while they appreciated that there was a hearing at all, few expected much to change in their daily lives.
"In October 2010, Attorney General Eric Holder announced $110 million in Fiscal Year (FY) 2010 funding for the Second Chance Act reentry grants and the Justice Reinvestment Initiative," said Debra G. Rowe, acting executive director of Returning Citizens United, Inc., a non-profit located in Northeast that offers counseling services, programs and assistance to ex-offenders. "These two efforts focus on reducing recidivism rates and state and local spending on corrections through the use of evidence-based, smart-on-crime approaches implemented by state, local, tribal and non-profit partners."
"This included supporting community-based programs that are successful, and backed by evidence of effectiveness and would address a number of areas, including job training, education, mentoring, substance abuse and mental health treatment, family-based services, literacy classes, housing and employment assistance. The Sellmon v. Reilly decision has resulted in hundreds of additional, long-term prisoners coming home to DC during the past 18 months. It does not appear that the District of Columbia has taken any steps to insure that there were services available to them. This is a particularly difficult group, most incarcerated at least 15 years, who would need help with housing, employment, drug treatment, health care, etc."
Rowe said the majority of coalition members have been in the system for many years and have both observed and experienced changes, but one factor which has not changed, she said, is the lack of resources the District of Colombia has available to returning citizens.
"There is a lack of resources of returning citizens," she said. "It is our contention that the District will need resources with the essential aim of reconnecting returning citizens with their community and families by aiding them through the provision of case management, individual counseling, domestic violence prevention services, life skills/job readiness activities to ensure economic stability, and most importantly housing."
Several speakers said the various coalitions are continuing to provide services (while) the majority of programs have had to close their doors or are in danger of closing.
"One of the biggest problems is that they train us to death with workforce development programs - plumbing, HVAC and computer certification. The game is to keep money going and keep money coming," she said.
Rowe said it is important from a public safety standpoint for city officials to properly assist returning citizens. She and other presenters echoed their concerns about the lack of coordination of substance abuse, mental health, housing and other areas of need.