Beauty Queen Fights Promotes Health & Wellness
12/22/2011, 6:06 p.m.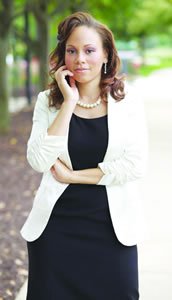 Amina Lillie Gilyard will represent the District of Columbia in the Miss Black USA competition in the summer of 2012. Amina holds a Master's degree in Health Education and a Graduate Certificate in Grief, Loss and Life Transitions Counseling.
Currently, Gilyard works as a Patient Navigator at a local non-profit organization. On her road to "the Nationals," she will continue to use her skills as a Certified Health Education Specialist (CHES) to promote her platform: "Wellness Ambassadors."
Since being selected, Gilyard has worked with the Sister to Sister Heart Health Foundation, Road to AIDS 2012, and the American Diabetes Association and other nonprofit organizations. Amina also has interviewed on a number of radio stations in an effort to spread her message to the masses.
"Wellness Ambassadors" is underscored by the importance of using health education to improve quality of life and increase awareness of disease management and prevention. During her reign as Miss Black DC USA, Amina will organize educational outreach efforts in underserved areas and continue to collaborate with local organizations that already work as "Wellness Ambassadors" in the community.
The Miss Black USA Pageant and Scholarship Foundation, Inc. is a nonprofit organization that provides educational opportunities to outstanding young women of color.
Amina said she is honored to represent the District of Columbia in the organization's 25thAnniversary pageant. She will compete against the other delegates in interview fitness, evening wear, talent, and question & answer categories for the coveted title of Miss Black USA. For more information about Amina Lillie Gilyard, visit to learn more about the Miss Black USA Scholarship Pageant organization, visit www.missblackusa.org.