D.C. Boxing Scene Celebrates Historic Week!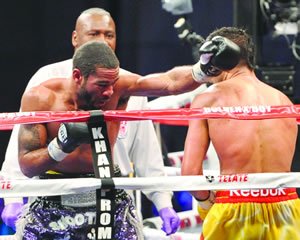 Another Beltway legend, William Joppy, also defended his title against Julio Cesar Green in 2000. And, of course, Mike Tyson lost his final bout in D.C. in 2005. All of those bouts were televised by
Showtime. ESPN and USA networks have made numerous trips to the Beltway region in the past 18 years.
To say that all of those televised cards went without controversy would also not be true. This most recent discussion is not the first referee controversy we have had in the D.C. area. Ray Klingmeyer was roundly criticized for his handling of Pettway-Brown. Malik Waleed, who worked the co-feature bout between Seth Mitchell and Timur.
Ibragimov on Saturday was caught in the middle of a controversy on an ESPN bout in D.C. in 2008 involving a head butt. But most major commissions have had their share of controversies. It's an occupational hazard in this sport.
For the moment, however, Washington, D.C. is the talk of the boxing world. The nation's capital has a brand new world's champion and a number of other young boxers who are putting themselves in positions to replicate what Lamont Peterson accomplished on December 10 th . Meanwhile, Peterson becomes the 14 th Beltway Boxer to win a world title since 1990 in what I call the "Post-Sugar Ray Leonard Era." That is something that all Beltway Boxing fans can be very proud of. "