South Sudanese Delegation Meets with D.C. Mayor, Business Leaders
12/22/2011, 5:27 p.m.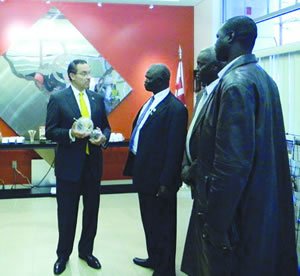 As part of its new international business initiative, on Dec. 16, the D.C. Chamber of Commerce hosted a delegation from the worlds' newest country--the Republic of South Sudan. Leaders from the northeastern African country met with District government leaders and representatives from the housing, telecommunications, and health industries. The objectives of the meetings were twofold: entrepreneurial opportunities and partnerships.
South Sudan's Garang Diing Akuong, Minister of Commerce, Investment and Trade was accompanied by Stephen Dhieu, Minister of Petroleum and Mining; Gier Chuang Aluong, Minister of Roads and Bridges, and Mr. Bol Mei, chairman of the South Sudan Chamber of Commerce.
Mayor Vincent Gray, Deputy Mayor Victor Hoskins, Barbara Lang, president and CEO of the D.C. Chamber of Commerce, and local business leaders were in attendance.
The program started with Deputy Mayor Hoskins talking about local development and infrastructure, including plans for the St. Elizabeth's campus, as well as city incentives and venture capital available in the District. Mayor Gray talked about his administration's employment initiatives, including his signature One City - One Hire program, which was kicked off three months ago and now boasts 300 firms signed on and 1,335 people hired. The Mayor also mentioned the Summer Youth Employment Program, which last year hired 14,000 youths, and came in $5 million under budget.
Mayor Gray gave a proclamation to the South Sudanese delegation, saying: "We'd like to congratulate you on your independence--the District of Columbia hopes to join you one day!"
Representatives from the South Sudanese government and business community discussed infrastructure needs and outlined the South Sudan Development Plan. Executives from various industries discussed investment and business possibilities while Minister Akuong discussed the possibility of building a large retail outlet such as a Wal-Mart in South Sudan. Akuong said such an investment would be "very, very important to our economy."
Regarding workforce issues, Minister Akuong said the South Sudanese "are plentiful, literate and fluent in the English language." He noted, however, educational opportunities are still in the growth stage, with 1.2 million students enrolled in school in South Sudan, which is up from 300,000 in 2005.
Small business opportunities, transportation and financial infrastructure were discussed during the meeting. To protect investment, a number of laws have been passed. According to the South Sudanese representatives, the country has gone from having three Islamic-run banks to seven multinational financial corporations operating in the country.
On July 9, 2011, the Republic of South Sudan became the world's newest country, after voting overwhelmingly to secede from the north. The nation is slightly smaller than Texas and is home to 8 million people. The capital, Juba, is the fastest- growing city in Africa, and the country's GDP is expected to grow by 6 percent in 2011, increasing to 7.2 percent in 2012. Oil and petroleum resources provide the vast majority of the country's revenue, although South Sudan's vast tracts of arable land point to major agribusiness potential.