The Year In Review
12/29/2011, 4:43 p.m.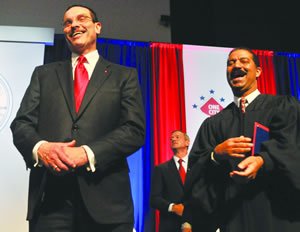 JANUARY
Gray Takes the Helm
By James Wright WI Staff Writer
The newly-inaugurated mayor of Washington said that he wants city residents to unify and to work with him to see that statehood for the District is achieved. D.C. Mayor Vincent Gray (D) delivered his inaugural address on Sun., Jan. 2 at the Washington Convention Center in Northwest. Gray, 68, said that his goal is to make Washington "One City." "This is one city, our city, the District of Columbia," Gray said to an estimated crowd of 3,500. "There is far more that brings us together than drives us apart."
Alsobrooks has Bold Plans for Prince George's County
By James Wright WI Staff Writer
The first elected female prosecutor in the history of Prince George's County has widespread support among county leaders as she seeks to upgrade her office, pursue domestic violence cases more vigorously and reduce recidivism among the county's criminal population. Angela Alsobrooks was sworn in as the first elected female state's attorney in Prince George's County on Mon., Jan. 3 at a private ceremony in Upper Marlboro, Md.
FEBRUARY
D.C. Community Leaders Meet with Baker
By James Wright WI Staff Writer
The Washington Informer Newspaper recently hosted a roundtable discussion with newly elected Prince George's County Executive Rushern Baker III at the offices of The Washington Informer in Southeast on Fri., Jan. 28 to discuss economic development, minority contracting and issues pertaining to the county's school system. Baker represents the wealthiest Black majority county in the United States along with business and civic leaders from several jurisdictions.
MARCH
Gray Issues Weigh on Council
By Dorothy Rowley WI Staff Writer
The scandal that has marred D.C. Mayor Vincent Gray's administration may have cast a divisive shadow over the City Council as well. Since Gray, 68, assumed the helm of city government in January, his administration has faced a succession of distractions: A month after former employee Sulaimon Brown (who got a six-figure job with the city after Gray was sworn in, only to be quickly terminated) -- alleged he was paid by Gray's campaign to make then-Mayor Adrian Fenty look bad, the salaries of several high ranking appointees came under scrutiny and Gray was accused of nepotism and cronyism over the discovery that children of some of his administrators received city jobs.
APRIL
Gray's Arrest Brings Attention to D.C.'s Status
By James WrightWI Staff Writer
D.C. Mayor Vincent Gray and members of the City Council were met with cheers as they exited U.S. Capitol Police Headquarters at First and D Streets Northeast, Tuesday morning, following their arrest for unlawful assembly while protesting the city's lack of budgetary autonomy. "This is an absolute travesty," Gray said. "D.C. deserves to be free. All we want to do is to spend our own money."
MAY
50TH Anniversary Celebration of '61 Freedom Rides
Brooke Kelly, JSU Blue & White Flash
On a hot Mississippi day, much like the ones they encountered 50 years ago, former Freedom Riders like Dr. Etta Simpson-Ray from Nashville, Tenn., returned to Jackson, Miss. Unlike the days of the 1960s when segregation and violence met them, hundreds of people from across the nation welcomed them for a week of historic recollection to commemorate the 50th Anniversary of the 1961 Freedom Rides. A portion of the commemoration included a panel and reunion of Freedom Riders at Tougaloo College.