The Year In Review
12/29/2011, 4:43 p.m.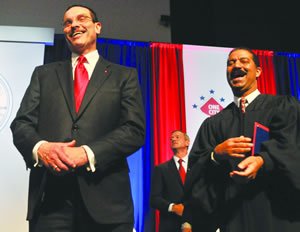 JUNE
D.C. Council Approves New Boundaries by 12-1 Vote
By Barrington M. Salmon, WI Staff Writer
D.C. Council members Tommy Wells and Yvette Alexander were all smiles Monday, satisfied for the most part with a revised redistricting plan that, while not perfect, has left much of their wards intact. "I'm feeling really good," said Wells, 56, Monday evening. "I started with the position that I didn't want to bargain away any part of the ward. I worked with residents, ANCs, and the community to claw it back. We got Hill East, and the Mount Vernon Triangle. Penn Quarter, however, has gone to Jack Evans. Ward 7 got Reservation 13, which will be an opportunity for them to grow," the Ward 6 council member said. Yvette Alexander, the Ward 7 council member, echoed Wells' sentiments.
JULY
AUGUST
D.C. Rocks from Quake
By Barrington M. Salmon, WI Staff Writer
A federal employee looks distraught while gathering his thoughts in front of the United States Department of Agriculture building in Southwest, soon after a 5.8 earthquake rocked the city on Tues. Aug. 23. / Photo by Khalid Naji-Allah
At 1:51 p.m. on Tuesday afternoon, an earthquake measuring 5.9 on the Richter scale rocked the Washington metropolitan area. There are reports that the quake may have lasted as long as 40 seconds and an estimated 12 million people in seven states and parts of Canada felt the tremors.
One of Washington's national treasures, the National Cathedral in Northwest, was shaken to the point that its bells tolled. Several finials and pinnacles atop the cathedral crashed to the ground. And late Tuesday, August 23, church officials continued to check the massive structure, inside and out, to ensure the absence of additional damage.
SEPTEMBER
Remembering Sept. 11
By Barrington M. Salmon
WI Staff Writer
This weekend, the nation will pause to remember the 3,000 people killed when Al Qaeda hijackers commandeered commercial airliners and crashed into the Twin Towers in New York City and the Pentagon in Arlington, Va.
Mayor Partners with Private Sector
Plans to Hire 10,000 Unemployed District Residents
By Barrington M. Salmon WI Staff Writer
Just days after D.C. Mayor Vincent C. Gray (D) announced an aggressive new plan to bring more job opportunities to the city's almost 36,000 unemployed residents, the local business community is climbing onboard. Lisa Mallory, director of the D.C. Department of Employment Services (DOES), said the private sector reaction to the One City, One Hire initiative so far has been impressive.
OCTOBER
Union Addresses Joblessness Among People of Color
By James Wright WI Staff Writer
Leaders of the Service Employees International Union (SEIU), along with officers in non-profit organizations that aid domestic workers and Latinos, met to discuss the "The Impact of the Jobs Crisis on People of Color" at SEIU headquarters in the District on Fri., Oct. 7.
SEIU National Communications Director Inga Skippings, said people of color are in trouble in the current economy, which is why SEIU launched a national campaign to focus on the high level of unemployment that persists in communities of color. "Workers of color are shut out of the job market in this economy," Skippings said. "We found out that only 103,000 jobs were created in September and I heard on the radio that some economists were saying that is not bad, but that is not good enough."