Wizards Andray Blatche Appeals to His Teammates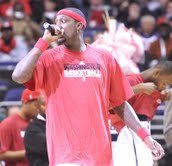 Before the Wizards season opener against the New Jersey Nets for the Dec. 26 game, seven- year veteran Andray Blatche addressed fans in the Verizon Center, stating, "How y'all doing? This is your captain, Andray Blatche. On behalf of myself, my teammates, the whole Washington Wizard organization, we want to say we strongly appreciate y'all sticking around all summer. It's been a long summer. It's a shortened season, but it's gonna be tough, and we're gonna need you guys -- the best fans in the NBA -- to be our sixth man. So in other words, let's get this season started."
One day after they lost that game, Blatche did not have kind words to say about his teammates while talking to reporters and on his Twitter page. "Everybody needs to shut up. I didn't call out my coach or team mates," said Blatche. "I said I had a bad game, need it in the post instead of jump shots."
According to head coach Flip Saunders, Blatche was not officially the team captain but just served that role for the opener.
"Blatche was complaining about the players not giving him the ball where he wanted it. His reputation has been for six years that he won't go in the post," said Saunders. "Him saying that he wants to go in the post, to me, I like hearing him say that. We try to get him in the post." Saunders added that, "The other thing you have to understand is that other teams always aren't going to let you do what you want to do. And he is a good post-up player."
The post game events now give us the impression that the Wizards are not only starting the season with an early loss, but one in which out-of -locker-room statements could hamper the team and jeopardize the success of the season.
For additional Wizard game photos, please visit www.washingtoninformerphotos.com