D.C. GOP Accuses Barry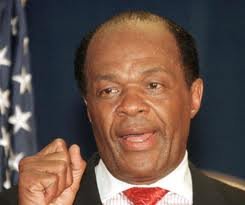 The D.C. Republican Party is accusing Ward 8 Councilman Marion Barry of using public resources for attacks on a contender in the 2012 Democratic primary.
Barry, 75, has begun leveling attacks on his former spokeswoman Natalie Williams, as she seeks to take over the veteran councilman's seat on the City Council.
Earlier this week, Barry' office issued a press release stating that she had just recently moved to Ward 8 and knew little about the bcommunity in Southeast. The press release was reportedly sent from a (Barry) staffer's publicly-funded City Council email address.
Barry has also admonished Williams for protesting a planned homeless shelter in the Anacostia area, labeling her "insensitive and a "Johnny-come-lately."
Bob Kabel, chair of the D.C. GOP, said Barry's use of publicly-paid-for resources to attack Williams is "unethical, inexcusable [and] should not be tolerated by the Council," according to a statement Kabel issued Dec. 28.
He added that the Council's recent effort to bring about ethics reform will face its first test due to Barry's actions.
"Chairman [Kwame] Brown needs to speak up if he intends to lead his colleagues on the Council," Kabel said.