D.C. Community Leaders Meet with Baker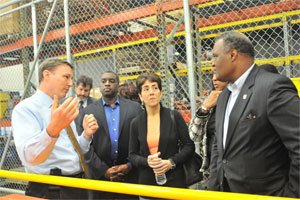 The Washington Informer Newspaper recently hosted a roundtable discussion with a newly elected official who represents the wealthiest Black majority county in the United States along with business and civic leaders from several jurisdictions.

Prince George's County Executive Rushern Baker III attended a forum at the offices of The Washington Informer in Southeast on Fri., Jan. 28 to discuss economic development, minority contracting and issues pertaining to the county's school system.

Denise Rolark Barnes, publisher of the newspaper, said that Baker's appearance proved to be historic.

"This is a first for us," Barnes, 54, said. "We wanted [County Executive] Baker to meet with us in the community and we invited folks from the community to hear him."

Community leaders who attended the afternoon discussion included the Rev. Anthony Motley of Southeast, community activist and ardent former mayor Adrian Fenty supporter Ron Moten of Southeast, Jauhar Abraham, chief executive officer of Peaceoholics of Southeast, James Bunn of the Ward 8 Business Council in Southeast, Fulton Bridges and Hermond Palmer Jr. of Industrial Bank of Washington and Lo'an Sewer of the Vibrant Design Group of Gaithersburg, Md.

Baker, 53, kicked off the discussion with a nod to the Informer.
Prince George's County Executive Rushern Baker (D), is being interviewed, by local press, outside of the Washington Informer office before the start of a roundtable discussion with Washington Informer publisher Denise Rolark Barnes and local community leaders on Fri. Jan 28, in Southeast. Photo by Khalid Naji-Allah

"Thank you for the work that you are doing," he said. "It is good to see face-to-face the history."

Baker had promised to stop by the Informer offices after his election but could not do so in 2010 due to scheduling conflicts. He said that he was an admirer of the late Calvin Rolark, who founded the newspaper in 1964 and served as its publisher until his death in 1994.

Baker said that the quadrant that the Informer is located is no longer considered an island unto itself.

"This neighborhood is part of the Washington region and what goes on here has an impact not just in public safety but economic development and the ability to go after federal dollars," he said.

"The residents of D.C. and Prince George's County go back and forth. It is important that we collaborate because young people who are residents of the county have ties to the city."

Baker said that Maryland's future growth will take place in Prince George's County.

"Maryland's epicenter is no longer Baltimore," he said.

Washington Informer Publisher Denise Rolark Barnes listens as Prince George's County Executive Rushern Baker makes a point about economic development. Photo by Maurice Fitzgerald
One of the problems with Prince George's County, Baker said, is that its tax base is too narrow.

"We have relied too long on residential property taxes and we need more commercial property," he said. "We have built homes and more homes, but no retail to go with it."
He said that the greatest opportunity for growth in the county lies within the Capitol Beltway, known for its established communities. He noted that Bethesda, one of the country's wealthiest jurisdictions cited by CNNMoney.com, was once an affordable, housing enclave.

Baker said that the Wegmans at Woodmore Towne Center which opened in October 2010 in Lanham, is an example of high-scale retail's attraction to the county.

"Wegmans is beyond the Beltway but is close enough to a Metro Station," he said.

Bridges, 43, who is Industrial's vice president and its director of residential lending, wanted to know about the lack of minority representation in the county's major developments.

Baker acknowledged Bridges' concerns.

"We are working to restructure that office," he said. "We are going to beef that office up. Plus, we are going to do what they do here in D.C. and that is demand that businesses have minority and female partners in their projects."

However, Baker appeared far more passionate about the importance of education than economic development - for him-- it's personal.

"Fifty percent of our kids in Prince George's County are not going to graduate from high school," he said. "When kids fall behind they become frustrated."

Baker shocked the group when he said that he failed the first and second grades.
"My parents told me that they were not going to give up on me," he said. "I remember a program where D.C. [Police] Chief Cathy Lanier talked to some young people about the fact that she was a teenage mother. To help our young people, we have to look at programs that work."

He noted that some criminal specialists are currently reviewing the test scores of Black boys in middle school to determine how much more prison space will be required in the future.

He also said that that he endorses a bill by Del. Jay Walker (D-Fort Washington) that would require financial literacy be a mandatory course to graduate from high school.
County Executive Rushern Baker reviews the Dr. Martin Luther King special edition of The Washington Informer during a visit to the newspaper's office in Southeast. Photo by Maurice Fitzgerald

The residents of Prince George's County made the difference during the election, the county executive said. The re-election of Gov. Martin O'Malley was the result of the heavy turnout and large percentage of the vote from Prince George's County. Baker said that he maintains a good relationship with O'Malley but just as important, he knows the players in Annapolis.

"I know the chairs of the major committees in the House of Delegates," said Baker, a former delegate.

"I also know the president of the state Senate, Mike Miller. Those contacts will be valuable in funding our hospital and investing in economic development."

Overall, Baker sees himself as not only the chief spokesman for Prince George's, but its primary salesman.

"My job is to go out and tell people that we have spaces by Metro stations and other places for them to grow and expand," he said.
"We have to also develop incentives for small and local minority businesses. In the 1990s, Baltimore was the place in Maryland to grow and invest and now it is Prince George's County."