Mooz-lum Examines America's Phobia with Islam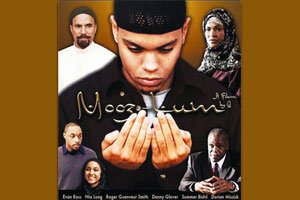 Director Says Film Provides More Accurate Portrayal of Muslims

When writer-director Qasim Basir originally penned the script for the film, Mooz-lum, he hoped that it would serve as both a catharsis for American Muslims, and a vehicle for dialogue on America's growing intolerance of Islam.

A coming of age tale of a young African-American male, Mooz-lum follows the character, Tariq (Evan Ross) as he navigates life on an American college campus. Torn between a strict Muslim upbringing and the peer pressure attached to college freedom, Tariq's growing pains are further complicated by the terrorist attacks of September 11.

Based on Basir's own upbringing within Islam, Mooz-lum, examines the many misconceptions Muslims face within mainstream culture, as well as the representation of Muslims with which he is most familiar.

"I felt a need to write something more precise. The general representation of Muslims and Islam is far from accurate -- it's a very violent one, a very extreme one and one that is shared by a very small percentage of this culture," Basir, 30, said.

Basir said that while misconceptions of Islam are common, popular culture and mainstream media have helped fuel those errs in perception.

"There are many things that misinform people about Islam. In 2001, when our President stood in front of the world and said the words "Muslim extremists" together and he said "Muslim terrorists", it became the general verbiage used by major news stations over and over again. It was pushed into people's minds and the words became synonymous. All was sort of lost after that because the average person has no connection to Muslim culture, and if that's all they get, that tends to be all they believe," Basir said.

To Basir's credit, Mooz-lum is daring in its interpretation, flawless in its imagery, and masterful in its delivery. Both Ross and Nia Long give stellar performances.

Writer / Director Qasim Basir. / Photo by Roy Lewis.
Long - who portrays Tariq's mother, Safiyah, is finally provided the substantive material to be more than the "cute girl" on the big screen. Long is fiery, impassioned, and believable. Even more important, she and Kimberley Drummond (who portrays Tariq's sister, Taqua), offer America powerful images of Black femininity and beauty.

And while Basir sought not to emphasize the African-American aspects of Muslim life, saying, "Islam teaches that we are all equal under God", he does offer a rare glimpse of African-American Muslim life in film.

"The African-American Muslim population in this country has been here for generations even down to some of the slaves that were brought here in chains. There was also the conversions that took place around the Malcolm X days when a lot of African Americans joined the Nation of Islam and later converted to Sunni. Islam among Blacks is not new. My generation was probably among the first larger generation to be born and raised in this country," Basir said.

"Our parents and grandparents paved the way for Islam to be practiced in this country because they went into these neighborhoods and built mosques when no one was doing that and they now represent about 30-to-35-percent of Muslims in America." Actors Nia Long and Evan Ross portray a typical Muslim family in the newly released film Mooz-lum. / Courtesy photo.


Mooz-lum producer Dana Offenbach said that even as the film has laid the foundation for a greater understanding of Islam, having garnered major acclaim from film festivals in New York (Urbanworld) and Egypt (Cairo), there is still work to be done.

"We are responsible for educating ourselves in all of this. People are scared of what they don't know," she said. "Education is paramount. I was in my first mosque shooting this film and I realized that it was like any other place of worship. We are more alike than we are different. It's an old adage, but it rings true... we are more alike than we are different."

In its opening weekend, Fri. Feb. 11, Mooz-lum exceeded all expectations, placing Basir on a fast track to having the film achieve all of its goals.

The independently produced and distributed film is as daring for its methodology as it is its message. Dating back to 2007, when the script was originally written, Basir said, that he searched for financial backers -- to no avail. Spurred almost exclusively by a social media campaign, Mooz-lum executives used the event and ticket company, Eventful, to have viewers of the trailer "Demand" that the film be shown in theaters. Since the campaign launched in late 2010, more than 56,000 fans "Demanded" that the film be shown in AMC Theatres local markets.

The film opened in a handful of AMC Theatres in major cities, earning $12,712 per screen -- one of the highest per screen averages in the country.

AMC Theatres (AMC) presented the film exclusively in 10 cities on 11 screens. By comparison, films such as Just Go With It and Justin Beiber: Never Say

Never, both of which opened on more than 3,000 screens each, averaged $8,601 and $9,505 per screen, respectively.

"I always knew that if we could just get this film to the people, they'd show up," said Basir. "And although we didn't open in every city, those people should know that we're coming."
Basir and producer Dana Offenbach (left) stopped by the Washington Informer newspaper offices for an exclusive sit-down with Informer managing editor Shantella Sherman. / Photo by Roy Lewis.