International News Briefs - Feb 17, 2011
2/17/2011, 12:26 a.m.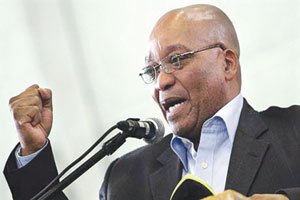 President Zuma Gets Calls for Jobs on Twitter and Facebook

In a novel experiment with social media, South African President Jacob Zuma urged users of Facebook and Twitter to send input for his State of the Nation speech slated to take place later this week.

"How can we improve the lives of all South Africans? This is your platform, the president is listening," Mr. Zuma, known informally as "JZ" asked on social networking sites.

Hundreds of tweets and Facebook entries responded. Feedback ranged from "create jobs", "fix potholes" to "end corruption" and "improve the schools."

Zuma was told to get rid of the shacks in which 1.8-million South African families still live, and to crack down on graft and poor government services. "JZ - all we need is just water & electricity, the rest is fine. Our area is more than 30 yrs without Electricity," one citizen pleaded. "Jobs is what we NEED, I have a diploma and I'm unemployed".

This being an election year, Zuma is under pressure to show that earlier promises have been fulfilled. Unofficial estimates put the percent of workers without jobs at 40% or higher.

Meanwhile, newly-appointed labor minister Nelisiwe Oliphant outlined proposed rules intended to bring South Africans "decent work." One rule would eliminate "labor brokers" or "temporary employment services" that provide short-term contracts, which Zwelinzima Vavi of the labor federation COSATU said "have condemned so many to new slavery by human traffickers."

Also proposed are new rights for unions, improved unemployment benefits and the criminalization of employer actions that defy the new rules.
Zuma's speech will be broadcast live on television, on radio, on big screens and streamed live on Parliament's website.

Sudan Seeks Debt Forgiveness Before Independence for the South

Sudanese authorities hope to unload much of the country's $38 billion foreign debt before Southern Sudan becomes independent in July.
Sudan has been barred from taking new loans from the World Bank since 1993 because of unpaid obligations on the old loans. This could leave the south, one of Africa's poorest regions, ineligible to borrow from the bank.

A region the size of Texas with just 30 miles of paved roads, Southern Sudan has no steady power supply, large farms or factories. Half of its eight million people live on less than $1 a day and need food aid, according to the U.N. Money earned from oil extraction makes up 98 percent of the budget.

Of the $38 billion owed, $20 billion is interest, payable to lenders in England, the World Bank and affiliated institutions, Arab oil-producing states, the U.S. and other countries.

Meanwhile, the U.S. lost no time in coming to the aid of the new South Sudan. An electrification project in the village of Kapoeta, funded with U.S. aid, has installed power lines, electricity poles, and street lamps not far from rusting tanks and shot-up buildings.

The Kapoeta project is one of many USAID initiatives in the region. Another top project is the funding of a $200 million highway from Uganda to Juba, the southern capital of newly independent southern Sudan.

"The development needs of Southern Sudan are absolutely enormous," Barrie Walkley, the top U.S. diplomat in Southern Sudan, said at the opening last week of the electricity project. But, Juba activist Lorna Merekaje urged caution towards the incoming flood of American dollars.

"It is a great support to Southern Sudan but it needs to be managed well because if people are not careful then we end up implementing the donor agenda and not the agenda of the people."