March 16 Preliminary Hearing for Leslie Johnson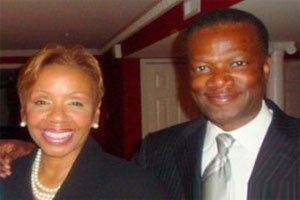 While former Prince George's County Executive Jack Johnson was indicted this week on eight federal corruption charges resulting from his arrest late last year following an FBI raid at his home, his wife who was arrested along with him, faces a preliminary hearing on March 16.

The Johnsons were taken into custody Nov. 12 after federal officials -- who had tapped their phone lines -- heard the 61-year-old county executive instruct his wife to stuff nearly $80,000 in cash in her bra and flush a $100,000 check from a developer down a toilet.

Mrs. Johnson, 58, a former administrative law judge, faces evidence-tampering charges. Se was reportedly not indicted the same time as her husband because she had not been the main target of an ongoing FBI investigation.

According to reports, an investigation into several instances of a pay-to-play scheme in which the county executive was allegedly involved, was initiated just one year after he assumed office in 2002.

Shawn Wright who is Mrs. Johnson's attorney, could not be reached for comment but wrote in court documents filed earlier this month in U.S. District Court of Maryland in Greenbelt, that the extended hearing date was needed "given the magnitude of the allegations."

Mrs. Johnson was sworn onto the County Council in December as the 6th District representative. She can vote on matters that come directly before the Council, but as the result of an unanimous vote by the governing body, Johnson has been stripped of any authority on the Council and is restricted from serving on any of its committees. In addition, she cannot represent the Council at outside organizations.