B. Smith Launches D.C. Talent Search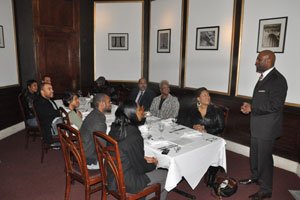 Lifestyle guru, fashionista and entrepreneur [Barbara] B. Smith - acclaimed for her upscale B. Smith's restaurants which feature "down-home cooking" - has created the "B. Discovered" competition in which 28 area singers, ages 21 and up, are vying for a $1,000 cash prize coupled with an opportunity to perform at various restaurants in the District and New York City -- including Smith's Union Station and Manhattan establishments.
Auditions were held earlier this month at Union Station and according to competition director, Nathan Jolley, who divulged that one of the competitors is 55 years old, through the next seven weeks four singers will vie for a finalist spot.
"At the end, all [seven finalist] will come back to compete for the grand prize," Jolley told The Washington Informer. "In determining a winner, we're looking for someone who has good stage presence and great singing."
Jolley said that because the multi-talented Smith has garnered widespread success, she wanted to provide a venue for others to get on the bandwagon. "This competition is kind of her way of being able to help people [follow their dreams] as well giving back to the community," said Jolley.