Howard University Women 67, Florida A&M 58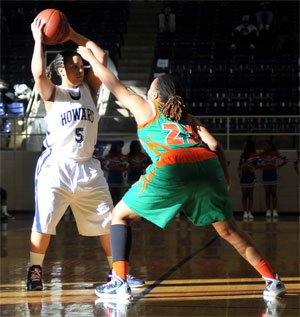 WASHINGTON, DC - The Howard Univ. women's basketball team extended its home winning streak to seven with a 67-58 win over Florida A&M (13-11, 8-5 MEAC) on Sat. Feb. 19. With the win, the Lady Bison split the season series with the Rattlers and improve to 7-5 in MEAC play.

Saadia Doyle led the all scorers with 18 points and 13 rebounds. The redshirt-sophomore is now 29 points away from 1,000. Tamoria Holmes recorded a flawless game with 14 points, five assists, and no turnovers in 35 minutes of action. Adelle Walton proved to be a spark off the bench with 11 points off 4-of-6 shooting from the floor. Cheyenne Curley-Payne chipped in with eight points and eight boards.

"This win was very important," said Curley-Payne. "Our goal is to finish with a good seed in the [conference] tournament."

The HU defense converted 19 FAMU turnovers into 14 points. Howard also won the battle of the boards, 40-37 - including 15 offensive - and scored 13 points of second chance opportunities. The Lady Bison dominated in the paint, outscoring Florida A&M 36-12.

HU began the game with a 7-0 run, capped by a Doyle layup. FAMU was held scoreless until an Antonia Bennett basket at the 15:53 mark. The spread was 14-7 midway through the period and Howard used an 11-3 run over a three-plus span to take its largest lead of the game, 25-10 with 6:30 left in the half. The Lady Bison took a slim 29-21 advantage at intermission.

In the second stint, HU pushed the margin back to double-digits behind a Curley-Payne jumper to start the period. FAMU chipped into the Lady Bison lead and outscored Howard 12-7 over a three-plus span to make it 38-33 at the 12:47 mark. The Rattlers used a Tameka McKelton shot from behind the arc to for a 40-36 score with 11:49 remaining in regulation.

Florida A&M would not get any closer as Howard went on an 11-1 run to push the spread back to double-digits (52-37). Walton hit two three-pointers during that run. The San Diego, Calif. native went 3-for-5 from behind the arc.

For the Rattlers, Bennett tallied a game-high 19 points. McKelton and Jasmine Grice finished with 15 and 11 points, respectively.

Prior to the game, HU was tied for fourth place in the MEAC with North Carolina A&T, while Florida A&M held the third spot.