District Restaurant Donates Memorabilia to a Local University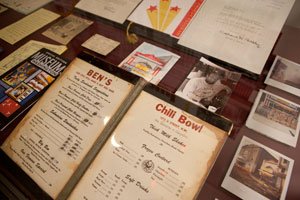 Students, scholars, administrators, and District insiders attended a gifting ceremony on Wed., Feb. 16, to celebrate the merging of two renowned Washington, D.C., institutions: Ben's Chili Bowl and The George Washington University.

The event, held at The George Washington University's Estelle and Melvin Gelman Library, was attended by more than 200 people, including Virginia Ali and her three sons Haidar, Kamal, and Nizam--the widow and sons of the late Ben Ali, Ben's Chili Bowl's iconic founder.

Virginia Ali officially donated nine boxes of Ben's Chili Bowl memorabilia to the university, which document the restau-rant's long, rich history. Over the years, Ben's has endured many transitions that many other businesses in D.C. did not. Ben's survived the race riots of the late 1960s, the open-air heroin markets, which plagued U St. corridor during the 1970s, and the construction of the Metro transit system, which significantly altered much of Washington D.C.'s landscape, in the late 1980s.

The storied collection includes more than 800 photographs; an original 1963 menu; an old payroll book; an original Ben's Chili Bowl calendar honoring Dr. Martin Luther King Jr., distributed shortly after his assassination; and many other keepsakes that highlight the restaurant's 52 years in business. The permanent collection will be on display at Africana Research Center, which is located on the seventh floor of the Gelman Library at The George Washington University.

Bernard Demczuk, The George Washington University's assistant vice president for D.C. relations was largely respon-sible for putting the exhibit together. Demczuk, an African American historian and professor, is the sole author of an in-structional chilidog eating essay: "Bernie's Dog Bite Method to Properly Eat a Ben's Chili Bowl Classic Chilidog."

"I've been eating at Ben's Chili Bowl since 1969," said Demczuk. "So I have a little bit of familiarly with Ben's," he said.

Since 1958, Ben's Chili Bowl has been serving up its famous mouth-watering half smoke's--possibly loaded with chili--to anybody who craves them. It has become a staple not only along Washington D.C's bustling U St. Corridor, but also throughout the nation, and even the world.


Ben's A-list of customers includes President Barack Obama, French President Nicolas Sarkozy, Bill Cosby (a regular at the restaurant and friend of the Ali family), and Academy Award winning actor Russell Crowe--to name just a few.

Cosby called into the ceremony on Feb. 16 and was put on speaker phone so that everyone could hear him. He con-gratulated Virginia Ali and cracked a few jokes.

"Well, it's just wonderful to see this for you and for Ben and for your wonderful children," Cosby said.
Cosby teased his mother-in-law, who was also in the audience.

"As a matter of fact, the last time my mother-in-law had a half smoke she started cursing. She said: 'mum-mum this is some good blickity-blickity- blam-half smoke.' We had to take her to church that night," Cosby said jokingly. The audience ex-ploded into laughter.

Cosby ended his call after kind-heartedly poking fun at the organizers of the event.
"Please forgive me for interrupting your wonderful time, but obviously this is the only celebrity you could get."