Strathmore Presents Nathan and Noble Jolley, Jazz Duo
WI Staff | 2/28/2011, 1:25 p.m.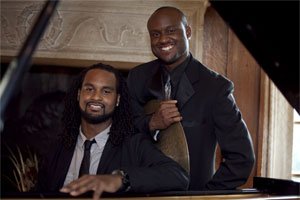 Twin Jazz Duo are Strathmore's March Artist In Residence

Nathan and Noble Jolley, natives to Washington, D.C., perform twice in the Mansion at Strathmore, on March 2 and 23, 2011 at 7:30 p.m. The jazz duo was inspired and influenced by their late father, jazz guitarist Noble Jolley, Sr. "The Jolley Brothers, Noble on keyboard and Nate on drums, play some of the District's most original, self-assured and unpredictable bop" (Capital Bop). For more information or to purchase tickets, call (301) 581-5100 or visit www.strathmore.org.
Nate and Noble, Jr. will team up with fellow musicians Tim Green (saxophone), Christie Dashiell, (vocals) and Eric Wheeler (bass) for their performances at Strathmore, which will feature original pieces and jazz standards. At their March 2 performance, they will celebrate the release of their new CD Memoirs Between Brothers, of which CityPaper says "Noble Jolley brings the colors of the church, while his twin brother, drummer Nate, adds a level of sharp hip-hop groove." On March 23, they will perform the world premiere of a two-movement composition, commissioned by Strathmore.

Both brothers graduated from the Peabody Conservatory of the Johns Hopkins University on the Dean's List. The brothers have performed in festivals including the Havana Jazz Festival in Cuba (with the Fred Foss Youth Jazz Orchestra) and several BET Jazz Festivals in addition to performing and recording with such greats as John Legend, Antonio Hart, Ingrid Jensen, Nasar Abadey, Gary Thomas, Eric Lewis, Cynda Williams, Malcolm Jamal Warner, Davey Yarborough, Wes Anderson, Esther Williams, Heidi Martin and the W.E.S. Group.

Nathan Jolley, a jazz percussionist, composer, songwriter, arranger and producer, has performed at the East Coast Jazz Festival, Kennedy Center, Blues Alley, Lincoln Theater, Zanzibar Blue in Philadelphia and the Blue Note in New York. He has toured in Cuba, St Lucia, Anguilla, and Bonaire. "Nathan is an equally confident and expressive player whose performance... [showed] explosive musicianship that deserved a bountiful audience" (JazzTimes Magazine).
Noble Jolley, a jazz pianist, composer, producer and arranger, began his instrumental training on the harmonica at the age of three before moving on to the accordion, viola and trumpet. He regularly performs with the Noble Jolley Group and his sister, R&B harpist/singer Rashida Jolley. He also plays, composes and produces Gospel and R&B music. "Pianist Noble packs a Tyner-ish wallop and his solos shone a real knack for textural drama" (JazzTimes).

About the Artist in Residence Program
Strathmore's Artist in Residence program, launched in September 2005, is an initiative to cultivate local musicians in the Washington, D.C. area by connecting established artists with up-and-coming musicians. Each up-and-coming artist participates in professional development workshops, perfects his/her performances over the course of a month in the Mansion Music Room, creates an education program and premieres a new work commissioned by Strathmore.

About Strathmore
Strathmore is a 27-year-old arts presenter and cultural destination that serves to nurture art, artists and community through creative and diverse programming of the highest quality. The Mansion at Strathmore is located at 10701 Rockville Pike, North Bethesda, MD, one half-mile north of the Capital Beltway and immediately adjacent to the Grosvenor-Strathmore station on Metro's Red Line.

Strathmore is supported by a grant from the Maryland State Arts Council, an agency dedicated to cultivating a vibrant cultural community where the arts thrive. An agency of the Department of Business & Economic Development, the MSAC provides financial support and technical assistance to non-profit organizations, units of government, colleges and universities for arts activities.

Strathmore is also supported in part by the Arts and Humanities Council of Montgomery County.

March 2 and 23, 2011
7:30 p.m.

Tickets: $12 (Stars Price $10.80)

Mansion at Strathmore
10701 Rockville Pike
North Bethesda, MD 20852
For additional information or to purchase tickets, visit www.strathmore.org or call (301) 581-5100.