Bily Taylor, Jazz Great Dies
Ken Harris | 1/3/2011, 9:03 a.m.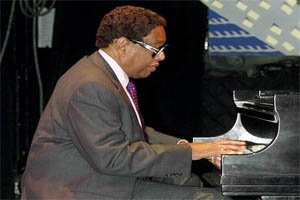 Grammy-winning jazz pianist Dr. Billy Taylor, who wrote more than 350 songs including the civil rights anthem recorded by Nina Simone, "I Wish I Knew How It Would Feel to Be Free", died of heart failure at the age of 89 December 28, 2010.

Taylor's career as a composer, song writer, musician and civil rights advocate spanned more than 50 years. Since 1994, he was the artistic director for jazz at the John F. Kennedy Center for the Performing Arts in Washington, D.C.
Taylor, who played with legends like Charlie Parker, Dizzy Gillespie, Charles Mingus and Miles Davis, was known for his efforts to save the homes and the lives of America's elderly jazz and blues musicians through the Jazz Foundation of America.
He founded the famed Jazzmobile, which brings jazz to city neighborhoods every summer.
One of the most honored jazz musicians in history, Taylor earned a doctorate in music from the University of Massachusetts , then collected two dozen honorary degrees, and the National Medal of the Arts.

With over twenty-three honorary doctoral degrees, Taylor was also the recipient of two Peabody Awards, NEA Jazz Masters Award (1998) an Emmy Award (1983) for "Outstanding Informational, Cultural or Historical Programming", a Grammy Award (2004) and a host of prestigious and highly coveted prizes, such as the National Medal of Arts (1992), the Tiffany Award, and the Lifetime Achievement Award from Down Beat Magazine. He was also honored in 2001 with the American Society of Composers, Authors and Publishers (ASCAP) Jazz Living Legend Award, and election to the Hall of Fame for the International Association for Jazz Education.

For more infomation on the life and accomlishments of Dr. Billy Taylor, please visit http://www.billytaylorjazz.net/