Sweet Honey in the Rock returns to People's Congregational Church for two children's concerts on January 15
WI Staff | 1/5/2011, 5:38 p.m.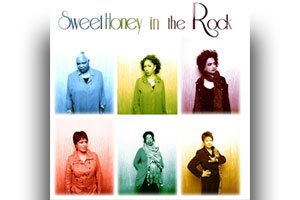 Washington's Sweet Honey In The Rock brings its unique brand of a cappella spirituals, traditional gospel hymns, rap, reggae, African chants, hip-hop and jazz to People's Congregational Church for two children's concerts on Saturday, January 15 at 1:30 pm and 4 pm.

Now in its 37th season, the group tours throughout the country and remains true to its roots in the Civil Rights movement. Last June, Sweet Honey In The Rock issued a new release entitled Are we a nation? expressing its opinions about Arizona's law SB-1070 in the hope of "stimulating interest in and conversation about the law and to foster an understanding if its broad implications." Criticized by President Obama, the law, which the New York Times described as, "the broadest and strictest immigration measure in generations" would make the failure to carry immigration documents a crime and give the police broad power to detain anyone suspected of being in the country illegally." "This law," said Sweet Honey In The Rock, "encourages and creates opportunities for hatred, ignorance and prejudice to prevail... We believe we are a nation that can create laws that bind this nation together rather than tear this nation apart."Who: Sweet Honey In The RockWhere: People's Congregational United Church of Christ
When: Saturday, January 15, 2010 at 1:30 pm and 4 pmTickets: General admission $12. A ticket must be purchased by everyone attending the concert. Tickets are available at wpas.org or 202-785-9727.

Last season the group's especially commissioned song "My Family" appeared on the documentary A Family Is a Family Is a Family: A Rosie O'Donnell Celebration, which debuted on HBO. The documentary looks at the diversity of today's families, highlighting same-sex parents, mixed-heritage families, single parents and stories of adoption.

Among other recent projects, Sweet Honey In The Rock celebrated the Alvin Ailey American Dance Theater's 50th anniversary and returned to New York City twice in December for two more live performances of "Revelations at 50." Sweet Honey In The Rock also performed at Harlem's famed Apollo Theater in "A Celebration of the African American Cultural Legacy," a festival curated by renowned soprano Jessye Norman. The festival saluted the enduring vitality, influence and creativity of African-American culture. Sweet Honey has also helped First Lady Michelle Obama and a group of invited children celebrate Black History Month at the White House by singing "This Little Light of Mine" and "Ballad of Harry T. Moore" (a civil rights activist whose home was bombed) and ending with "Civil Rights Medley/Ella's Song." On Easter Sunday 2009, Sweet Honey joined mezzo-soprano Denyce Graves, the Chicago Children's Choir and the U.S. Marine Band in a performance at the Lincoln Memorial paying tribute to singer Marian Anderson on the 70th anniversary of Anderson's historic concert there.

Taking its name from the first song the group learned--a metaphor for African-American women: strong as a rock and sweet as honey--this group of five African-American women and a sign language interpreter was founded in 1973 by Bernice Johnson Reagon, then vocal director of the D.C. Black Repertory Theater Company and a member of the Student Non-violent Coordinating Committee (SNCC) Freedom Singers.

Although Reagon, who received a MacArthur Fellowship Award Genius Grant in 1989, has retired and the group has had a number of members, their philosophy remains one of "inspiration and motivation," says their president, Dr.Ysaye M. Barnwell. They continue to inspire, delivering their upbeat message reflecting the musical traditions of the black church and the legacy of the Civil Rights movement.

All of the group's members--Ysaye Maria Barnwell, Nitanju Bolade Casel, Aisha Kahlil, Carol Maillard, Louise Robinson and Shirley Childress Saxton--contribute to its repertoire. In the 2007-08 season they performed Indaba (a work that WPAS commissioned for its 40th anniversary) in Berkeley, California. A musical dialog between youth and their elders, Indaba includes two songs that are also featured on Sweet Honey's Grammy-award nominated CD, Experience---101, which is aimed at kids in the 'tween' years who are experimenting and exploring their world, trying to define themselves. The songs are supportive, encouraging their freedom to explore and change their minds, sending the message that "if you hang in there, we'll hang in there with you," says Barnwell. The latest of their 23 albums, Go in Grace, was released in 2008.

In 2004, Sweet Honey In The Rock received the Ford Honors Award from the University Musical Society of the University of Michigan. They were the subject of a documentary entitled Raise Your Voice by Emmy Award-winning, independent filmmaker Stanley Nelson. The film was part of the "American Masters" series on PBS.