Javale McGee to Represent the Washington Wizards in 2011 Sprite Slam Dunk Contest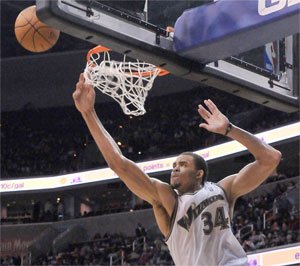 Wizards Center to Become Franchise's First Ever Dunk Contest Participant

It was announced today by the NBA that Wizards Center JaVale McGee will be one of four participants in the Sprite Slam Dunk contest, to be held on Saturday night, February 19th, at STAPLES Center in Los Angeles, CA as part of the NBA's All-Star Weekend festivities. McGee will be joined by Clippers forward Blake Griffin, Thunder big man Serge Ibaka, and Bucks guard Brandon Jennings.

"I'm excited and proud to be able to represent our fans and this organization in the dunk contest," said McGee. "It's something that I've always wanted to do, and it's an honor to be considered as one of the game's top dunkers, but in the meantime I'm just focusing on the other things that I need to do for my teammates and coaches to help us win."

McGee (7'0", 252 lbs.) has registered 55 dunks in 31 games this season, with 48 percent of his field goals on the season coming by way of the dunk. Among all players with at least 50 dunks this season, McGee ranks second with 3.13 dunks per 48 minutes of play.

Fans will again have the opportunity to determine the winner of the Sprite Slam Dunk as part of the "They Dunk. You Decide" campaign, which debuted as part of the event in 2008. Each of the four participants will also be featured in a special online video series that will give fans an inside look at their preparations for the event. The series, "Sprite Slam Dunk: Countdown to the Contest," will feature McGee matched up with former Washington forward and five-time NBA All-Star Chris Webber, a current NBA TV/TNT analyst, who will work with McGee to create and practice some of his electrifying dunks that will take place during the event in Los Angeles.