Howard Names Gary Harrell as Head Football Coach
1/10/2011, 9:21 a.m.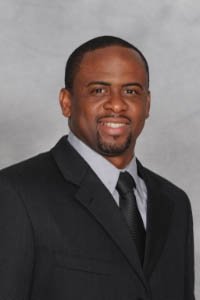 Howard University Director of Athletics Louis "Skip" Perkins has announced the hiring of Gary Harrell as the new head football coach.

"Our goal is to re-establish a competitive football program and athletic program overall at Howard University," Perkins said. "As an alumnus, a championship athlete and a strong coach, we are confident in Coach Gary "The Flea" Harrell."

Gary Harrell recently completed his two seasons as the offensive coordinator for Bowie State University's football team. Prior to joining the Bulldogs, Harrell served as the quarterbacks coach at Morgan State University (2008 - 2009) and the wide receivers coach for Team Michigan, a member of the All-American Football League (Feb. 2008 - May 2008).

The Miami native began his coaching career at Howard (2002-2004) as wide receiver coach. After two seasons at Howard, Harrell also served as Wide Receiver coach at Texas Southern (2004-2006), and Florida A&M (2006-2008).

Harrell, affectionately known as "The Flea," was a favorite for his calculating and precise on-field exploits. He ranks in the top five all-time in school history for receiving and punt returns. Harrell was a four-year letter winner as a wide receiver and punt return specialist at Howard University.

"Howard has a strong legacy of achievement," Harrell said. "Every member of Howard University Football accepts the responsibility of representing the program with dignity and pride on and off the field."

As a starter for Howard's undefeated 1993 team, Harrell and his teammates won the Mid-Eastern Athletic Conference (MEAC) Championship and were crowned the Black National College Champions. He set the benchmark for wide receivers at Howard and holds the school record for most receptions in a game (13) and in a career (184).

The former Howard standout made his professional debut in the NFL with the New York Giants (1994-96), followed by a season for the World League's Frankfurt Galaxy (Mar. 1996 - June 1996) and two seasons in the Canadian Football league with the Montreal Alouettes (1996-97)

Harrell is a 1994 graduate of Howard with a degree in marketing. Harrell was inducted into the Howard University Hall of Fame in November 2005 and received a proclamation from the City of Miami declaring it Gary "Flea" Harrell Day. ?Harrell attended Miami Northwestern High School.

Howard has 19 varsity athletic programs, including Division 1 football and Division 1 basketball. Other sports programs include soccer, swimming and diving, tennis, indoor and outdoor track and field for men and women; and four programs - bowling, lacrosse, volleyball and softball - in which only women participate.