2011 College Football Championship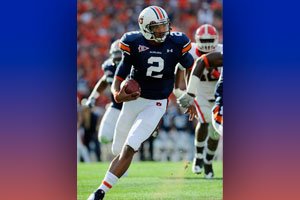 The nation's number one ranked team the Auburn Tigers behind the running of freshman Michael Dyer captured the 2010 BCS national championship before a crowd of 78,603 at Glendale, Arizona defeating the PAC-10 champion Oregon Ducks.

Dyer finished his night's work with 143 yards on 22 carries, including a 37 yarder late in the fourth quarter on the final drive of the game. On that play Dyer stopped for a second and after hearing his teammates tell him the whistle never blew he continued.

" I was going out there, trying to make a play. I just kept my feet moving, " said Dyer at his post game press conference.

In a statement released after the game, referee Bill Le Monnier said he was confident of the call. " The ruling on the field was there was nothing other than the foot that touched the ground"

Dyer for his efforts was named the games Offensive player of the game.

Defense dominated Monday night's contest which saw both teams enter the game averaging over 40 points per contest.

After a scoreless first quarter Oregon took a 3-0 lead with 14:13 remaining in the second quarter on a 26 yard field goal by Rob Beard.

The Tigers came right back with a 35 yard pass from Cameron Newton to Kodi Burns.

The two teams exchanged scores including a safety by Auburn and the Tigers led at the half 16-11.

In the third quarter Oregon was shut out for the first time all season as the Tiger defense dominated. The Tigers meanwhile
received a 28 yard field goal by Wes Byrum.

Oregon's offense came alive in the fourth quarter as the Ducks scored with 2:33 remaining in the contest on a 2 yard pass
from Darron Thomas with the two point conversion good the score was tied 19-19.

Auburn's offense behind the running of Michael Dyer set up Wes Byrum's game winning field goal with no time left on the clock.

The 2011 Heisman Trophy winner Cameron Newton finished his night completing 20-34 passes for 265 yards and two touchdowns. " All in a night's work I'm okay it was worth it," said the Heisman Trophy winner.